Seed Study - Anemone cylindrica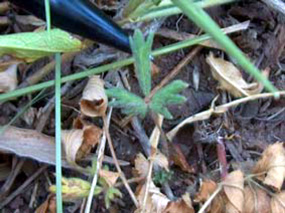 Species: Anemone cylindrica
Common name: Candle anemone
Seedling identification: Lobed trifoliate leaves with long soft hairs. Similar to Potentilla pensylvanica, but has narrower leaves that are more triangular.
---
Anemone cylindrica – candle anemone, thimbleweed
Average number of good seeds per gram bulk matter: 981 (468)
Average number of good seeds per gram cleaned: n.m.
Commercial estimates of seeds per gram: n.a.
Percent seed: n.m. Percent live: n.m.
Collection dates: August 25, 26 & 30
Collection effort: 8.2 grams in 2 person hours
Collection notes: Relatively easy to collect, once it is found. Not common or abundant.
Cleaning notes: Measurements of seed/gram bulk matter, included fluff and apparently empty seeds.