Seed Study - Achillea millefolium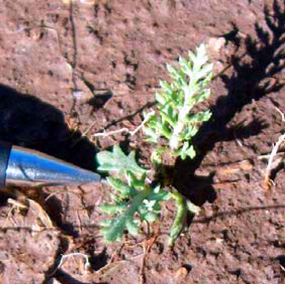 Species: Achillea millefolium
Common name: common yarrow
Seedling Identification: Seedlings are tiny with dissected leaves. Leaves are very pungent with a sage-like smell, so beware of confusing this with Artemisia frigida. Achillea millefolium has leaves that are much more dissected.
---
Achillea millefolium – common yarrow
Average number of good seeds per gram bulk matter: 419 (359)
Average number of good seeds per gram cleaned: n.m.
Commercial estimates of seeds per gram: 6174
Percent seed: 27
Percent live: n.m
Collection dates: August 26 & 29
Collection effort: 6 grams in 2 person-hours
Collection notes: It is impossible to collect this species without getting large amounts of chaff and litter. Seed collected in the park was poor due to some of it being underdeveloped, wormy or being covered with a black sooty residue.
Cleaning notes: To clean this seed and obtain a percent seed measurement, a microscope and dissecting tools were used. The bulk measurement included not only seed but also large amounts of chaff, but many of the empty seed heads had been removed.