Resource Ramblings 2008-04
Invertebrate Fossils in the Madison Limestone of Wind Cave
Invertebrate fossils are common in the Madison Limestone (Pahasapa Limestone) within Wind Cave. About 350 million years ago (Mississippian Period), the park region was located near the equator and was covered by shallow seas with soft, carbonate-ooze covered sea floors. These tropical seas covered lower continental portions and their depth fluctuated over time. The Middle Level of Wind Cave corresponds with a time when shallow water, less than 30-feet deep, dominated. At times, new limestone beds were exposed at or near the surface by drops in sea level or rises of land. The presence of burrows and gastropod fossils are evidence that water was shallow. Fossil burrows (disturbance by organisms) also indicate that waters were oxygenated. The Upper Middle Level corresponds to a receding of water and chert was concentrated through evaporation on muddy flats. The Upper Level corresponds with a time when deep water (+/-200 feet deep) dominated. Over 20 million years, several hundred feet of sediment accumulated on this seafloor. This sediment consisted of hard parts of organisms, aragonite that precipitated out of the water, and deposits of anhydrite (calcium sulfate). After being buried by over 5300 feet of sediment, the Madison was compacted and turned to rock and uplifted about 50 million years ago as part of the Laramide Orogeny that formed the Black Hills.
Wind Cave was formed as this limestone was dissolved at the juncture where several types of water mixed. Most of the cave had been previously outlined by solution of fissures during the Mississippian Period. As limestone dissolved away, fossils were exposed, often leaving them in relief. This process can reveal details rarely seen on the surface, as erosion destroys them. This is especially true of fossil burrows. In some places cave fossils have been replaced by coarse calcite crystals and much of their intricate structure has been lost, making them difficult to identify. These fossils were probably dissolved by sulfuric acid during the Mississippian Period when the first cave pockets were being dissolved and replaced by calcite. Due to the process of dolomitization, many other fossils in the Middle Level of the cave were destroyed. They have literally been obliterated by recrystallization. Storms also caused many fossils on the shallow sea floor to be pulverized and reworked into cross-bedded layers. These layers can be seen along tour routes in Wind Cave. Listed according to abundance, fossil assemblages in Wind Cave include: brachiopods, colonial corals, burrows, gastropods, and horn corals. Other common Mississippian fossils, such as crinoids, bryozoa, and blastoids, have yet to be found in the cave. Brachiopods are found most abundant in the Upper Middle Level of Wind Cave, from a time when water was shallowest. Although fossils are found in all levels, burrows are rarely found in the Upper Level, when deep water dominated. Thick wall coatings found in the Lower Levels of the cave obscure most fossils found in the lowest member of the Madison. Another type of fossil in Wind Cave, iron-fixing bacterial filaments are about 310 million years old, a time when the first cave pockets started to form within the Madison.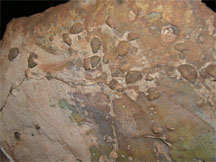 NPS Photo
Although brachipods are found on the underside of chert layers (which is silicon dioxide or cryptocrystalline quartz) or along bedding planes of the Upper Middle Level, they can be found in all five levels. These are the most common fossils found in Wind Cave. They can be casts or molds and 4-8 different species have been recognized here. To date, no one has attempted to classify them to species. Occasionally, mass mortality layers are found where sometimes hundreds of brachiopods died. Many are half shells, indicating they were disarticulated and even turned upside down. This may have occurred when storms washed them around and buried them or through exposure as water receded. Brachiopods on undersides of chert layers in the Upper Middle Level may have died from receding water and evaporation.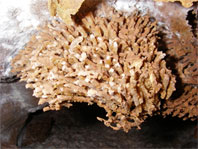 NPS Photo
Colonial corals in the cave could be one of four types. In addition, there is another unidentified colonial coral found in the cave. Fossil reefs didn't form in the Madison because of soft ooze floors and muddy water; instead, individual colonial corals occur in small clusters, with specimens averaging between 4-8 inches in diameter, although specimens of several feet in diameter have been found.
NPS Photo
The burrows in Wind Cave are considered trace fossils and are evidence of biological activity, not the organism itself. These burrows were left in relief by dissolution and often stick out from walls as delicate forms several inches long. Many burrows have been coated with a thin layer of calcite when the cave reflooded with calcite-saturated water, which thickens them unnaturally. There are 5 types of burrows recognized to date, including: straight vertical, straight horizontal/low angle, horizontal curving filamental branching, long meandering horizontal w/small side chambers, and twig-like branching forms. Burrows have not been studied or identified to date.
NPS Photo
Mollusks (gastropods or snails) are rare in Wind Cave. There are two types found here, yet no one has tried to identify them. Individual specimens up to 2 inches in diameter have been found within the cave.
Only a handful of solitary rugose horn corals have been found to date, which makes them one the rarest fossils in Wind Cave.
Iron-fixing bacterial filaments were formed in small water-filled pockets dissolved in the Madison @310 million years ago by sulfuric acid. These grew where fresh meteoric water and anoxic water mixed. It is speculated that they were living off of the oxidizing iron. These fossils look like black needles with web-like connections resembling spider webs. Their filament sheaths are often covered with manganese or iron oxide. The famous quartz formations found in Wind Cave, such as the Crown Jewels or Bed of Nails, are these types of fossil filaments that have covered with quartz crystals. (Rod Horrocks)