Resource Ramblings 2007-02
Rainfall - What a Difference a Year Makes
Wind Cave National Park received 19.01 inches of rain during 2005 and 14.10 inches of rain during 2006. The photographs below, taken along the same transects in succeeding years, show the impact of precipitation on the plant growth and the potential nutritional value of forage available.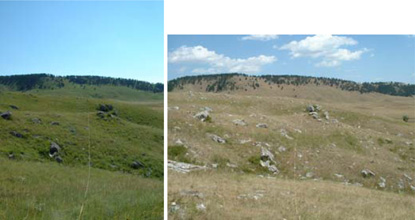 NPS Photos

NPS Photos
Native prairie plants are adapted to variable precipitation, but prolonged drought can cause substantial reductions in plant cover and vigor, and can dramatically reduce the amount of time that green forage is available.
Plants become less digestible as they mature. Immature forages contain about 12 to 15 percent crude protein. Plants in the early heading stage contain about seven to 10 percent crude protein. Protein content of cured forages declines as stem/leaf ratios increase.
In years of average, or better, rainfall, protein levels remain high into the autumn months. In years of below average precipitation, protein levels can drop off in mid-summer. Forage that cures at early stages of plant development is often of higher than average quality, but results in a reduction in the amount of available forage overall. As a result, park wildlife may need greater amounts of forage during times when the park has the least forage available.
Late season or secondary "green-up" in a drought year is not necessarily a bonus forage resource. When plants break drought induced-summer dormancy, the initial growth is produced from stored energy, thereby reducing reserves needed for winter survival and spring green-up the following year. Short flushes of growth terminated by drought, grazing, hail or frost often deplete energy reserves and reduce forage production the following year.
Proper forage utilization during the growing season is generally considered to be the removal of 50 percent or less of the present, current year leaf and stem tissue by weight. Repeated grazing of the most desirable plant species, with greater than 50% utilization, can result in a depletion of energy reserves and possibly result in death of plants. Less palatable, and often weedy, species usually fill the void.
Drought years are unpredictable, but are expected to occur from time to time as part of natural ecosystem processes. Wind Cave National Park's average precipitation for the last five years (2002-2006) was 16.3 inches which is 1.6 inches below the 55-year average of 17.83 inches.
2002 16.88 inches
2003 17.32 inches
2004 13.95 inches
2005 19.01 inches
2006 14.10 inches
Information included in this article was taken from two publications: Reece, Patrick E., J. D. Alexander III and J. R. Johnson. Drought Management on Range and Pastureland, A Handbook for Nebraska and South Dakota. Nebraska Cooperative Extension Service EC 91-123; and the U.S.D.A., National Resources Conservation Service, Grazing Lands Technology Institute, December 2003, Revision 1. National Range and Pasture Handbook. - Marie Curtin
Comments and feedback about Resource Ramblings are encouraged and should be directed to Dan Foster, in person, or via email.