Resource Ramblings 2007-01
Broomrapes (Family: Orobanchaceae)
Two species of low growing, parasitic plants called broomrapes are known to occur in Wind Cave National Park. Broomrapes use other plants to produce their food because they are not green and cannot conduct photosynthesis.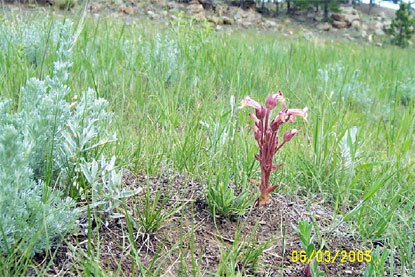 NPS Photo
Both species, clustered broomrape (Orobanche fasciculata) and prairie broomrape (O. ludoviciana) usually parasitize members of the genus Artemisia within the park, which includes fringed sage and silver sage.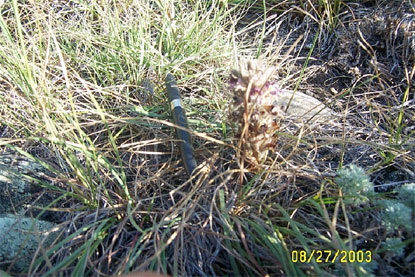 NPS Photo
Prairie broomrape has a reputation full of contradictions. It is considered an endangered species in Wisconsin, and a threatened species in Illinois and Indiana. Alternately, it is considered a noxious weed in several states, including Florida and Minnesota, because species of broomrape parasitize tomatoes, peppers, beans, peas, sunflowers, and tobacco, reducing crop yields or totally destroying crops.
Prairie broomrape plants are rare at the park; one plant was documented in 2003, and another in 2006. Although this species may be treated as a noxious weed in some areas of the country, it continues to be preserved and protected within the boundary of Wind Cave National Park.
Black-footed Ferret Reintroduction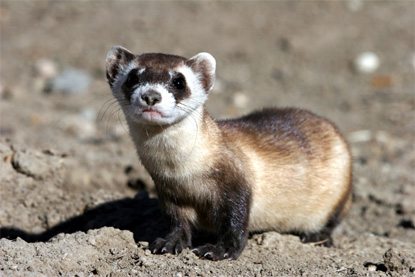 NPS Photo
The park is proposing to reintroduce approximately 20 to 25 black-footed ferrets annually for the next three to five years. After reviewing comments during the public comment period, it became apparent that some people thought the ferrets would be reintroduced under a "nonessential experimental" designation. Clarification was needed so everyone understood that if ferrets were reintroduced, their initial status would be endangered and authorized under a 10(a)(1)(A) scientific experimental/recovery permit issued under the Endangered Species Act. This type of permit allows experimental reintroductions to occur but also provides mechanisms to ensure that private property interests are not impacted.
Private landowners would still be able to continue all lawful operations and activities including using registered rodenticides to control prairie dogs and hunting on private lands under incidental take exemptions authorized by the U.S. Fish and Wildlife Service.
The U.S. Fish and Wildlife Service is considering this reintroduction effort as an experiment to determine if ferrets can survive on small prairie dog populations. The park's recently completed prairie dog management plan limits prairie dogs to between 1,000 and 3,000 acres within the park.
Hence, the park extended the public comment period to clear up any confusion with the designation and status of the reintroduced ferrets. One of the reasons NEPA provides a comment period on draft plans is to clarify information such as this before the plans become final.
Comments and feedback about Resource Ramblings are encouraged and should be directed to Dan Foster, in person, or via email.