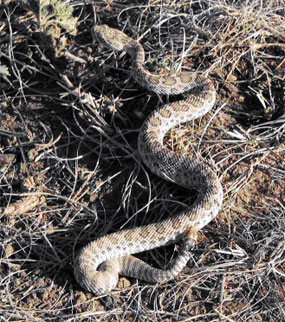 NPS Photo
Rattlesnakes feed mostly on small rodents and they often seek refuge in rodent burrows to avoid the heat of the day or cold nights. They are commonly found in rodent areas, such as prairie dog colonies. They can also be found sunning themselves on ledges, on roadbeds, or other areas where they can absorb heat to get their blood moving.
Proper identification of venomous snakes is important. The prairie rattlesnake is born with a single rattle segment at the end of its tail called a "button". Additional segments are added as a result of shedding their skin. However, the number of segments is not an accurate gage of the snake's age. Rattlesnakes have a relatively flat and triangular shaped head. The pupils of rattlesnakes eyes are cat-like, whereas all non-venomous snakes have round shaped pupils.
Rattlers try to expend as little energy as possible, therefore they are inactive for the most part. They rely on concealment and surprise for protection and hunting. Because of their excellent camouflage, rattlers are often impossible to see. They also do not always rattle prior to striking. Rattling is a nervous or angry reaction, not a warning. As a result, make sure you can see where you put your hands, feet, and behind. A good habit to form is walking around obstacles and being careful if you have to turn over rocks, logs, or other materials where rattlers may be resting. Also, avoid heavy underbrush or dense grasses.
Proper personal protection is important when outdoors, especially footwear that provides adequate protection for the feet and ankles. In some instances, snake chaps or guards may be wise. Also, loose-fitting clothing is better than tight, as rattlesnake fangs can penetrate clothing. If you happen to encounter a rattler, maintain a safe distance. Most snakes are not normally aggressive. Sometimes a snake may move toward you, but this is usually because they are seeking escape cover. - Dan Foster