Resource Ramblings 2006-03
Picture This
There have been a number of Geographic Information System (GIS) classes over this past fall/winter to share information about the park's spatial data. When discussing GIS, most people think of maps and data. It is true that a great deal of the effort that goes into a GIS involves ensuring the data is in good working order so that analyses and modeling can be utilized efficiently. However, a newer concept heard more often in the spatial community is "visualization".
Visualization is simply the idea of generating a digital image or video to show how features are related to each other. This could be draping a fire perimeter over a surface, creating a 'fly around' of a maintenance structure or building a 'fly through' to show an area from a pilot's point of view. In each of these, there is usually less emphasis placed on the data and spatial attributes.
One shortcoming of visualization is that it is difficult to obtain specific information such as, "how many acres is that polygon" or "how long is that section of road". However, the idea of simply showing how things 'look' on the ground can be beneficial.
For those working with GIS, ArcMap is the software that used to create maps and ArcCatalog is the software used to navigate through the park's data. Also included in our suite of software are two packages that can be used to create 3D representations. These are ArcScene and ArcGlobe. Either program can be accessed by looking under the 'Start' button, 'All Programs', and then under the 'ArcGIS' menu.
If you are not familiar with using GIS or if you would like to look at some of the working products used to create visual tools, you can visit the Wind Cave Main Server where some sample files have been stored. Navigate to:
\\Inpwica20089487\wica shared\GIS\visual\, and you'll see two folders, "photos" and "video". For better performance, it may be best to copy the videos to your desktop and view them from there. You can simply delete them from your computer when finished.
Keep in mind these graphics are working copies and therefore have some 'rough edges', but I think they will offer some insight into the possibilities of working with 3D visualizations. Remember if you are interested in learning more, everyone has access to the Virtual Campus where online classes are free to Park Employees. - Bill Koncerak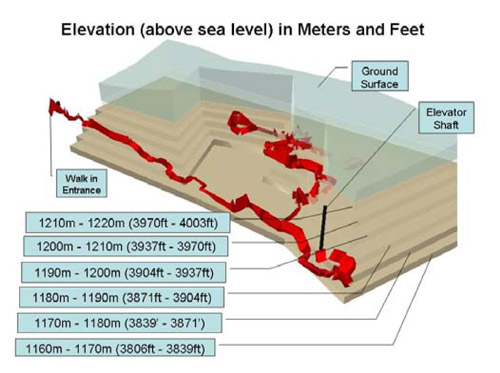 NPS Map
Record Lengths
Before the February Wind Cave Weekend, Hoelloch Cave of Switzerland was the fourth-longest cave in the world, with Wind Cave nearly a half mile behind (Wind Cave had been the fifth-longest cave in the world for the previous 13 months. On February 11, 2006, ten out-of-state and eight in-state cavers, coming from Colorado, South Dakota, & Nebraska, participated in the monthly survey. Dividing into six teams, these cavers surveyed 0.67 miles or 3,545 feet of new passage. With a new length of 119.58 miles, Wind Cave easily became the fourth-longest cave in the world, exceeding Hoelloch's 119.24 miles by 1/3 of a mile. Each of the six groups made significant discoveries that day, averaging nearly 600 feet per survey team. The Wind Cave survey is now 13 miles behind the third-longest cave in the world. It will be many years before Wind Cave has an opportunity to move up another slot in the world long cave list, as the Wind Cave survey project surveys an average of 4 ½ miles each year and the third-longest cave survey is also active (Optimisticheskaya in the Ukraine). In recognition for the Colorado Grotto's 16-year commitment to the Wind Cave survey project, a plaque was presented to the Grotto as the Midwest Region nominee for the national 2005 George B. Hertzog Volunteer Group Service Award. - Rod Horrocks
Comments and feedback about Resource Ramblings are encouraged and can be made to Dan Foster, in person, or via email.