Resource Ramblings 2006-02
Prairie Dog Management Plan Update
The park has finally completed a Draft Black-tailed Prairie Dog Management Plan / Environmental Assessment. The plan presents four alternatives including the No Action Alternative and three alternatives of differing ranges of prairie dog acreages from 300-1,000, 1,000-3,000, and 3,000-5,000 acres. Please take the time to read the plan and provide comments as appropriate. The document is available online at http://parkplanning.nps.gov/wica. The public comment period closes on March 10. Comments will be accepted during this period and should be addressed to the Superintendent; Wind Cave National Park; 26611 US Highway 385; Hot Springs, SD 57747 or electronically at the National Park Service planning website http://parkplanning.nps.gov/wica. There will be an informal open house at the Wind Cave National Park Visitor Center on Thursday, February 16, from 4 p.m. to 7 p.m. to discuss the plan with park staff and to comment on the alternatives.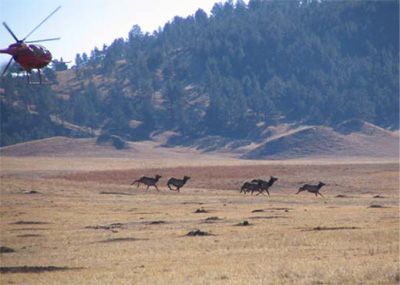 NPS Photo
Elk Capture near Boland Ridge
The park conducted another elk capture and radio-collaring project during the last full week of January 2006. Another 53 elk were radio-collared Leading Edge Aviation from Clarkston, Washington. These animals, along with another 10 from last years capture, are being monitored by Duane Weber to make sure they are alive and moving. The GPS unit in each collar collects and stores location data while a separate vhf signal allows Duane to track each animal and make sure the collars are still working and the animal is alive. Data is being retrieved from collars worn by animals tracked in 2005 and preliminary locations are revealing some interesting movement patterns. This project marks the beginning of the second year of a three to four year study on elk distribution and movement in and around Wind Cave National Park.
History Revealed
Survey work in Wind Cave continues to uncover additional facts about historical activities that occurred within Wind Cave but are not well documented in park records. Recently, while on a survey trip to the UEA area (located next to the Escape Stairs), we found a pencil inscription on the wall that read, "Radiators installed 8-18-35". We had already known that the Park had done extensive modifications of a room 50 feet to the east of that inscription sometime around 1935. We could see that they had excavated seventy feet of passage to a depth of 6-10 feet and built a 45-foot long rock retaining wall. That work was done in preparation for installing radiators for cooling the power plant, which generated electricity for the new elevator. Because of this inscription, we now know the radiators were installed on August 18, 1935, which was a few months after the excavation of the elevator shaft and two months before the Otis Elevator Company finished installing the new elevator. The coolant system was composed of a 2" pipe that ran down the elevator shaft and out to the "Isolation Room", where hot water ran through 2,300 feet of coiled pipes and was cooled before being pumped out of the cave and back to the Power House (currently the VIP Center). The only remnants remaining today are the extensive excavations, blasting, and rock walls in the Isolation Room. The pipes were removed from the cave in the spring of 1953 during a "cavern cleanup job", after power lines from Hot Spring started supplying electricity to the Park.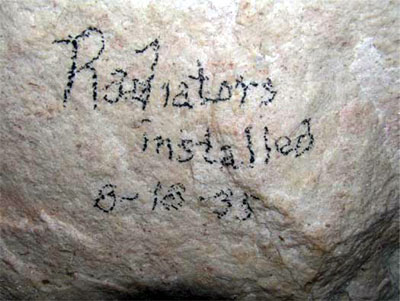 NPS Photo
Comments and feedback about Resource Ramblings are encouraged and can be made to Dan Foster, in person, or via email.