Resource Ramblings 2005-12
Evergreen Vegetation - A Holiday Tradition
Evergreen trees dominate the forests and woodlands at Wind Cave National Park. Outside the park, autumn brings the annual descent of leaves from deciduous trees. Within the park, extensive stands of ponderosa pine and Rocky Mountain juniper provide a welcome reminder that all is not dead; warmer temperatures and deciduous vegetation will return in spring.
Evergreen plants have long been a symbol of continuing life, and are an important component of many winter holiday traditions. Sprigs of evergreen holly are said to represent eternal life. A Christmas wreath symbolizes the strength to overcome the forces of winter.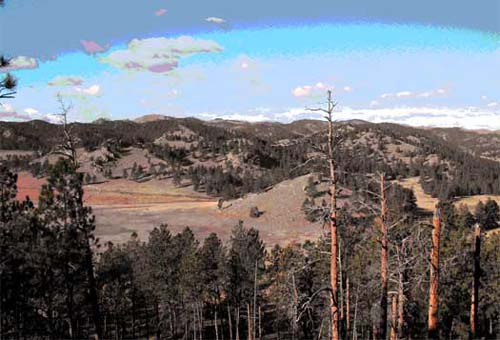 NPS Photo
Christmas trees are considered symbols of a living Christmas spirit, and bring the wonderful aroma of the forest into our homes. The first lighted Christmas tree is attributed to Martin Luther, who attached lighted candles to an evergreen to simulate the appearance of the starlit heaven watching over Bethlehem on the very first Christmas. According to legend, a Christmas tree affected the outcome of the Revolutionary War of 1776. Hessian mercenaries were so reminded of home by a candlelit evergreen tree that they abandoned their posts to celebrate the season with food and drink. General Washington attacked and defeated them that night, turning the tide for the colonial forces.

You won't find many of the traditional holiday evergreens - balsam fir, mistletoe, holly - on the park's plant list. However, the park is home to several other evergreen plant species, including black hills spruce, creeping juniper, common juniper, fragile pricklypear, bigroot pricklypear, plains pricklypear, pincushion cactus, yucca, cliff-brake, waxflower shinleaf, green shinleaf, Oregon grape and bearberry. If you look beneath the standing, dead vegetation, you might see the green of grasses and sedges taking advantage of sunny days to conduct photosynthesis during the colder months.

For additional green vegetation, we'll have to wait for the warmer temperatures, precipitation, and additional sunlight that spring and summer provide. Marie Curtin.

GIS Training
The second week of December marked the third and final Geographic Information System (GIS) training class for Wind Cave. Thanks to everyone that could attend.
If you are interested in learning more about using GIS, consider taking an online course through the Environmental Systems Research Institute's Virtual Campus. This is a computer based class that you can take at your own pace. The "Learning ArcGIS 9" course is normally $175.00 but thanks to the Department of Interior Agreement, the class is currently free.

To sign up for a class give Bill a call at extension 1149. Bill Koncerak.

Continuing Cave Research
Dr. Andreas Pflitsch's environmental monitoring experiments continue to make interesting new discoveries. He recently documented a pronounced pattern that is present at Wind Cave, but not at Jewel Cave. He has demonstrated that wind blows primarily in to Wind Cave during the winter and primarily out during the summer, a condition not found at Jewel Cave. He also found that the average inward flow velocity is quite stable in the summer in Wind Cave, but higher during the winter, while the average outward flow velocity is almost always higher than the inward velocity year-round.
Additionally, he found that the average mean temperature of air flowing outwards at Wind Cave is quite stable, which is not the case at Jewel Cave. He has also shown that Coyote Cave is probably not connected to Wind Cave, however, the blowholes surrounding Wind Cave probably are. This of course indicates that there is still undiscovered cave outside the current boundaries of Wind Cave to be found. You will see Dr. Pflitsch working on his experiments from time to time this winter and then hopefully, you will also see one of his interns, Andre Baumeister, working in Wind Cave for a couple of months from mid January through mid March. He is currently waiting for a J1 Visa. - Rod Horrock
Comments and feedback about Resource Ramblings are encouraged and can be made to Dan Foster, in person, or via email.