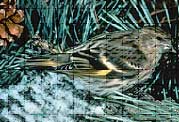 NPS Photo
Birds that do not migrate have developed physical and behavioral adaptations that help them find adequate food resources and survive cold temperatures. Birds that may be seen in this area during the winter are: Dark-Eyed Junco, Black Capped Chickadee, Pine Siskin, Downy Woodpecker, Hairy Woodpecker, Pine Grosbeak, American Goldfinch and birds of prey.

Behavioral adaptations of many birds include finding or constructing warm sleeping quarters; eating lots of food during to day to store plenty of fat; storing food in "caches"; and may birds simple snuggle with other birds to keep warm.
Physical adaptations are things such as adding additional feathers to the body to stay warm; "fluffing" feathers for added insulation; shivering to help maintain body temperature; and some birds even go into torpor.

Torpor is a physical condition in which an animal reduces physical activity (some for hours and others for days) and may reduce heart rate, respiration, and lower the body temperature slightly to use less energy. However these animals can be easily disturbed. Examples of animals that go into torpor include badgers, raccoons, skunks, bears, chipmunks, ground squirrels, rattlesnakes and other reptiles.

Hibernation, like torpor, is an adaptation that allows some animals to conserve energy and survive periods when food is hard to find. During hibernation an animal's heart rate, breathing and metabolism slow down so much that they can survive the winter with very little food. Even an animal's brain will cease normal activity.
For some species, reducing the food supply, changing the temperature, or reducing the amount of light can induce hibernation. Other animals seem to have an internal clock that tells the animal it is time to go to sleep.