Resource Ramblings 2005-09
Elk Bugling
The park has recently announced that the annual elk bugling season has begun in Wind Cave National Park and heralds this event with special programs. Elk once roamed throughout the state prior to European immigrant settlement. Elk were hunted so heavily in the 1800s that by 1900 no elk remained in South Dakota. Elk were reintroduced to Wind Cave National Park from Teton and Yellowstone National Parks between 1912 and 1916. During this time, approximately 80 elk were released in the existing confines of the Wind Cave National Game Preserve.
This season of the year is thrilling when the shrill vocalizations of a monster bull catch your ear. But, this time of year is also critical to the survival of elk as mature males (bulls) gather harems to breed and perpetuate the species. A mature bull may display antler racks spanning 50-60 inches and weighing as much as 50 lbs. Through the summer, bulls have rubbed their antlers on trees, the ground, and a variety of other objects to remove the "velvet" and prepare for the show of the rut. During the fall season, bulls may be seen sparring with each other by using their antlers to joust with each other for possession of females in harems. A bull may mate with as many as 50-60 cows, but an average harem will only contain about a dozen cows.
Male elk bugle for many purposes, but usually it is to claim territory and cows for breeding. The most familiar is the whistle that begins as a low bellow and builds to a high-pitched crescendo whistle. Under favorable circumstances, the high-pitched call may be heard for great distances. Other vocalizations may include squealing, "barking", "mewing", grunting, and a variety of other noises.
Take the opportunity to participate in the evening programs presented in the park and experience this fall wildlife phenomenon. Remember to keep your distance as a rutting bull will not take kindly to your presence in his territory.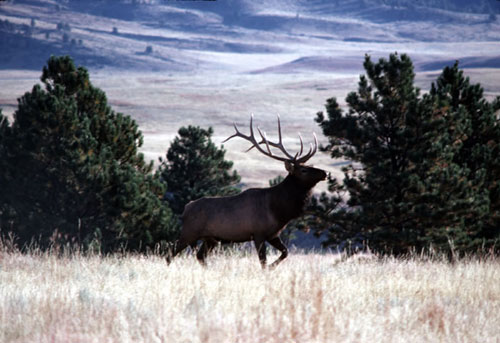 Photo by Ron Fry
GIS Training
On Tuesday, September 20th, from 10am-Noon, there will be an informal training session for ArcGIS in the conference room. We will go over the basics of ESRI software and how you may be able to take advantage of GIS capabilities.
If you have questions about doing a particular task or you are just interested in learning more about GIS in general, plan on taking a few hours to attend.
Consider utilizing the technology. You can take advantage of producing simple maps for education, dressing up documents and creating posters; or you can move into more advanced techniques of running analyses or developing models. An important consideration, especially for management, is that you may not need to know the specifics of accomplishing a task yourself but simply what opportunities may be available if your employees can take the time to learn GIS.
One option is to have a regular class each week or so if there is sufficient interest in having such trainings. An alternative is to enroll in online courses. If that's the case we can cover the sign-up procedure and help you get started with the virtual campus. An email message will be sent out to everyone as a reminder. If you're interested or would like to make a suggestion give Bill a call at ext. 1149. Hope to see you there on the 20th.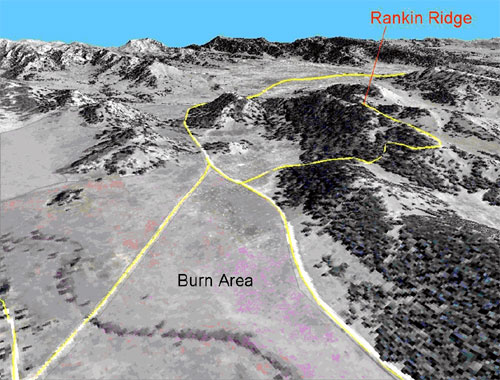 NPS Map
Comments and feedback about Resource Ramblings are encouraged and can be made to Dan Foster, in person, or via email.