Resource Ramblings 2005-05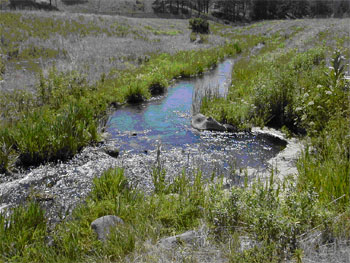 NPS Photo
Globally Imperiled Vegetation
Two vegetation community types occurring at Wind Cave National Park, Western Great Plains Streamside Vegetation and Cottonwood/Wolfberry Floodplain Woodland, are considered to be globally imperiled.
This riparian vegetation type often occurs in a mosaic of small patches. Two examples are the Highland Creek riparian area, from the north park boundary downstream to where the creek dries up most years, and the Beaver Creek riparian area between the west park boundary and the High Bridge on Route 87.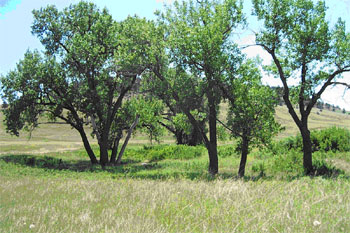 NPS Photo
This woodland vegetation type refers to stands of plains cottonwood and western snowberry. Box elder and green ash may also occur. The shrub layer is dominated by snowberry and may include Rocky Mt. Juniper and wild roses. The herbaceous layer usually includes western and slender wheatgrasses. A small example of this type is located in the draw between NPS 5 and NPS 6 in the northeast part of the park. Isolated cottonwoods occur elsewhere in drainage bottoms in the Park. - M. Curtin.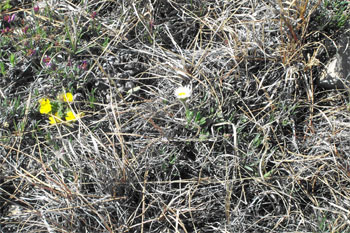 NPS Photo
Still Buff, After All These Years
A population of buff fleabane was documented at Lookout Point, in Wind Cave National Park, in 1937. Several specimens of the fleabane, Erigeron ochroleucus var. scribneri (Canby ex Rydb.) Cronq., were collected at that time, and entered as voucher specimens in the park's museum collection.
No other records existed at the park for the species, until now. A population of buff fleabane was documented during 2005 at (no surprise!) Lookout Point. Sixty-eight years later, this small, isolated population of buff fleabane is still holding its own. The low-growing perennial forb is mostly 1-6 cm tall, and has yellow (disk) and white (ray) flowers. It usually blooms May-August, but was discovered blooming this year during the third week of April.
The species occurs in North Dakota, South Dakota, Nebraska and Wyoming. It is tracked by the South Dakota Natural Heritage Program as a species of concern, and is ranked S4. A State rank of S4 indicates the species is apparently secure, though it may be quite rare in parts of its range, especially at the periphery, and that there is cause for long term concern.
Now that buff fleabane has been rediscovered at the Park, the population will be mapped and its status will be monitored. The information will be added to the park's GIS vegetation layer for plant species of concern, and plant species of limited occurrence at the park. - M. Curtin.
Comments and feedback about Resource Ramblings are encouraged and can be made to Dan Foster, in person, or via email.