Resource Ramblings 2004-12

NPS Photo
Biological Sciences
Wildlife
On December 12, beginning at 8:00 am, Park staff and volunteers will conduct the annual Christmas Bird Count. This will be Wind Cave National Park's tenth annual count and is patterned after the nationwide National Audubon Society effort to document trends in wintering birdlife throughout the United States. The area covered will be a 15 mile circle centered on the Ranking Ridge fire tower. This area includes all of Wind Cave National Park and portions of the Black Hills National Forest and Custer State Park. This effort is conducted annually to aid in documenting winter birdlife in the park and surrounding area, provide information for the park avian databases, provide information to the South Dakota Ornithological Union, and to enjoy time with friends. Those participating should bring a lunch, warm clothes, field guides, binoculars, spotting scope and something to share for dinner, as at the end of the day participants will meet at the VIP center for a Pot Luck dinner and compilation of bird lists. All are invited to participate and any additional questions may be directed to Dan Roddy at 745-1157.

Vegetation
Poinsettia (Euphorbia pulcherrima), a popular Christmas plant, is a close relative of leafy spurge (Euphorbia esula L.), a very unpopular exotic weed that occurs at Wind Cave National Park. Poinsettia, a native of Mexico, was introduced into the United States in 1825, and today is commercially grown in all 50 States. It is widely believed to be poisonous, however the American Medical Association's Handbook of Poisonous and Injurious Plants, states that other than occasional cases of vomiting, ingestion of the poinsettia plant has been found to produce no effect.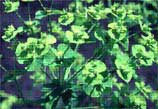 NPS Photo
Leafy spurge, was introduced into the United States from Eurasia around 1827, and has been documented in 35 States across the country. This species is considered toxic to cattle, although sheep and goats may eat it following an acclimation period with little or no harm. Leafy spurge's extensive root system containing large nutrient reserves makes it extremely difficult to control. Fortunately, biological control agents such as flea beetles have been successful in controlling and reducing infestations.
The Park has several small infestations of leafy spurge, but is too far north for poinsettia to occur in the wild, which requires a much warmer climate. The park also has several native spurge species.
Physical Sciences
Cave and Karst
It has been a general perception that airflow in Summer Avenue in Wind Cave always seems to blow towards the Crossroads, whether or not the cave is blowing in or out. To obtain some instrument readings to either help support or refute this observation, Dr. Andreas Pflitsch just completed a one week airflow test. Although preliminary at this point, because we have not tried the test during different seasons, it appears that everyone's perception was correct. At least during this one-week test, which covered several high and low pressure events, the airflow continuously flowed towards the Crossroads at an average wind speed of 1.64 feet/second (1.1 mph) with an average temperature of 53.96 degrees Fahrenheit. Over the course of the week, the temperature gradually decreased as it got colder outside, however, the wind direction never changed.
Dr. Pflitsch is now conducting another experiment at the Walk-In Entrance. He is asking that no one use the revolving door or go to the top of the stairs from inside the cave until March. If anyone has an emergency reason for using this door during this time period, please report that use to someone in the Physical Science staff soon thereafter.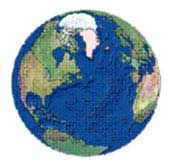 Resource Data Management
Most park employees using ArcGIS software have updated to the new version, 9.0. This will make some of the daily tasks easier to perform and offers some new tools. Plus a new addition called "Arc Globe" is available which allows you to look at and 'fly' around the world on your screen.
Some of the folks in the fire world still need to run previous software versions so their custom software will still operate. We've accommodated users of both versions of the software by running two license servers from the GIS Data computer. Dawn has been busy working on two computers in the resource area. These machines will have Arc 9.0 installed on them if you'd like to come by and take a look.

If you have any questions on our GIS program or are interested in installing the software or taking online classes stop by the resource shop and we'll do what we can to help out.
Comments and feedback about Resource Ramblings are encouraged and can be made to Dan Foster, in person, or via email.