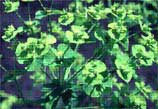 NPS Photo
Leafy spurge, was introduced into the United States from Eurasia around 1827, and has been documented in 35 States across the country. This species is considered toxic to cattle, although sheep and goats may eat it following an acclimation period with little or no harm. Leafy spurge's extensive root system containing large nutrient reserves makes it extremely difficult to control. Fortunately, biological control agents such as flea beetles have been successful in controlling and reducing infestations.
The Park has several small infestations of leafy spurge, but is too far north for poinsettia to occur in the wild, which requires a much warmer climate. The park also has several native spurge species.
Physical Sciences
Cave and Karst
It has been a general perception that airflow in Summer Avenue in Wind Cave always seems to blow towards the Crossroads, whether or not the cave is blowing in or out. To obtain some instrument readings to either help support or refute this observation, Dr. Andreas Pflitsch just completed a one week airflow test. Although preliminary at this point, because we have not tried the test during different seasons, it appears that everyone's perception was correct. At least during this one-week test, which covered several high and low pressure events, the airflow continuously flowed towards the Crossroads at an average wind speed of 1.64 feet/second (1.1 mph) with an average temperature of 53.96 degrees Fahrenheit. Over the course of the week, the temperature gradually decreased as it got colder outside, however, the wind direction never changed.
Dr. Pflitsch is now conducting another experiment at the Walk-In Entrance. He is asking that no one use the revolving door or go to the top of the stairs from inside the cave until March. If anyone has an emergency reason for using this door during this time period, please report that use to someone in the Physical Science staff soon thereafter.