Resource Ramblings 2004-08
General Stuff
How's your summer going? If you don't have enough to do, come see us in Resource Management. We'll keep you busy. As the season winds down, please don't let your love for the phenomenal resources wind down. Everyone is integral to the protection and management of this beautiful park. You do make a difference!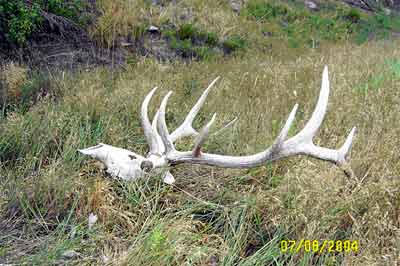 NPS Photo
Biological Sciences - Wildlife
The annual bison roundup for the park has been scheduled for the week of October 18. This year we plan to cull approximately 80 yearling bison from the herd.
Elk surveillance continues as always. The bulls have basically completed their antler growth for the year and will soon be polishing off the dried velvet. We often hear the first bugling, in anticipation of rut, by the end of August. Overall herd health looks good with no recent hints of disease. The ear ticks that tortured about 1-2 elk out of 100 last year seem to have run their course and currently are not causing a problem. We'll continue our diligence as fall approaches and the elk spend less time hidden in the deep dark woods.
The parkwide pronghorn survey will be conducted on Tuesday, August 17, 2004. All those who can assist in this survey are invited and need to meet in the Resource Management office area at 8:00 am. Please sign up as soon as possible in the Resource Management Office. You will want to bring water, food, sunscreen, a radio, binoculars, something to write with, and be dressed for hiking. Come participate in this survey and enjoy getting out in this beautiful park.
Physical Sciences - Cave and Karst
The Cave and Karst Inventory Project continues at a brisk pace. The ridgewalkers have upped the total number of caves within the park to 37. Again, to be called a cave a feature must be more than 15 feet long.
Physical Sciences - Hydrology
Mother Nature has given us some additional moisture in the last few weeks, but this has been far below our average. The 52 year average precipitation for the park from January through July is approximately 12.5 inches. This year we are sitting at a mere 7.6 inches. Our June precipitation was only 0.6 inches. This was the lowest precipitation ever recorded within the park.
The lack of precipitation has direct effects on the resources of the park. Surface water, in particular seeps and springs, do not flow as freely under these conditions. Forage production in the mixed-grass prairie is down from that measured last year. A reduction in surface water and available forage may have contributed to fewer elk being in the park this summer.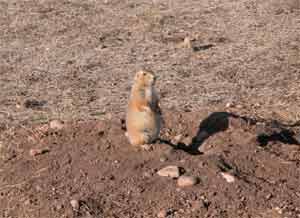 NPS Photo
Resource Data Management
We are in the process of developing a model to predict those areas that may be utilized by prairie dogs. Parameters such as soil types, vegetation, and slope are the easy parts of the process. Where the difficulty lies is in trying to figure out the nuances within prairie dog behavior that we see exhibited in small scale areas within the park. For example, soil types can be broken down into categories such as excellent, moderate, and poor potential for prairie dog use. Most prairie dog colonies will be found within the excellent or moderate soil types. But, we will find a certain percentage of the population in poor soil types, which just goes to show that wildlife, like people, will pretty much live where they want to live.
Comments and feedback about Resource Ramblings are encouraged and can be made to Dan Foster, in person, or via email.