Resource Ramblings 2004-07
General Stuff
This past month has been a flurry of activity. With the Director's visit and other happenings, it seems as though it is hard to stay on track. The summer work is going well and with so much happening, we are presenting only a sampling of what is taking place.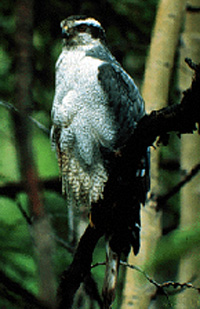 NPS Photo
Biological Sciences - Wildlife
Northern goshawks (Accipiter gentilis) have taken up residence within the park for the second documented time. The nest site was reported by the cavity nesting researchers and verified by Duane Weber. These forest hawks are aggressive killers and can take birds as large as pheasant and readily take rabbits. Goshawks usually mate for life and return to nesting area year after year. Goshawks are expert fliers, weaving through forest areas at top speed. They are truly magnificent birds, but don't turn your back on them!
Physical Sciences - Cave and Karst
The Cave and Karst Inventory Project has been in full swing for just over a month. During this time, Seth Spoelman and Jason Walz, the first ever seasonal ridgewalking crew, have walked more than 80 miles systematically searching nearly 1200 acres of the park for unidentified cave and karst resources. Their efforts, along with the help of several volunteers, have added five new caves, seven new rock shelters, and 51 new karst features to Wind Cave's cave and karst inventory database. The new data has been integrated with several pre-existing documents, allowing the entire inventory to be mapped and manipulated within the park's GIS.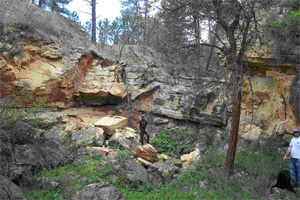 NPS Photo
Seth and Jason have photographed, written physical descriptions, obtained geographic coordinates, and performed a brief geological, biological, and cultural inventory for each site found. When a site has qualified as a cave (i.e., it is more than 15 feet long) or a rock shelter (i.e., an overhang or solutional feature that is wider than it is deep and capable of providing shelter for humans or animals), it has been carefully surveyed and mapped using a compass, clinometer, and laser range finder.
Some highlights of recent discoveries include some potentially significant cultural artifacts and evidence indicating that a variety of wildlife use the park's cave and karst features, in particular for shelter. Porcupine scat and woodrat (packrat) middens are extremely common and other cave and karst features inhabitants include bats, insects, rock doves, and prairie falcons. One new cave was found to be inhabited by a baby turkey vulture! The same cave also contains what appears to be an old moonshine still. Further investigation has been delayed due to the presence of the vulture. Graffiti and digging marks found in a rock helter named "Stacked Shack" may also be of cultural significance.
Resource Data Management
A number of people have inquired about the online training available through the ESRI Virtual Campus. This opportunity came about through an agreement between the Park Service and ESRI (makers of the software). As a reminder to anyone who is interested in learning about Geographical Information Systems (GIS), you can enroll for an online class to access a number of courses by visiting this website: http://data2.itc.ns.gov/gis/esri/vc.cfm.
In order to sign up you'll need to use a computer here at the park and have a Lotus Notes account (if you do not, ask your supervisor). The classes are self paced, most have six modules that require about 3 hours each and you have one year to complete the course before it expires. Plus, there is no cost to you which the agreement is in place. All in all this is a good deal. A recommended starting point would be to sign up for "Learning Arc GIS 8, Part I". The software, Arc View 8, can be installed across the network on any machine so you do not need CD's. If you have any questions stop by the resource shop.
Some of you noticed that the GIS server was running a bit slow a few weeks ago. This was because of a few issues with the backup hard disk. The problem has been resolved and we're back up and running at 100%.
Comments and feedback about Resource Ramblings are encouraged and can be made to Dan Foster, in person, or via email.