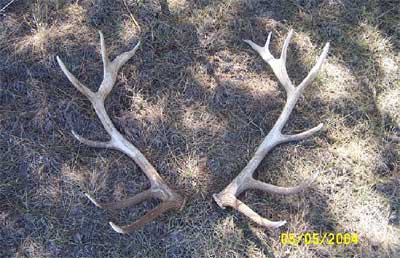 NPS Photo
Biological Sciences - Wildlife Management
Park staff recently completed an intensive inventory to find and map all of the prairie dog colonies within the park. The acreage of active prairie dog colonies within the park is now up to 1855.
Over 500 miles has been covered on foot in less than a year within Wind Cave as we try to keep tabs on the health and comings and goings of elk. Overall condition of adult elk has been good, with some of the calves coming through the winter in less than fair condition. Ear ticks are a contributing factor to the poor condition of some of these animals. As the flush of new growth starts, all elk should be making a good recovery. The annual shed of head gear is complete. It is a thrill to find a large set like these. We grow them big here in the park! The new growth of antler begins almost immediately, and almost all bulls are showing three to eight inches of velvet covered antler. The elk herds have broken up into much smaller groups than we have been seeing all winter, with a considerable number of the elk in the southwest corner now out of the park until next fall. Calving will begin in late May and will peak the first week of June.
With each passing spring day, new species of birds are arriving in the park. All habitats within the park are showing increased activity. Some of the birds are wasting no time in getting a quick start to breeding. We have already confirmed nesting of Golden eagle, Prairie Falcon, Red-tailed hawk, and Mourning Dove. It won't be long before we see the first broods of Turkeys, Sharp-tailed Grouse, and ducks. Many other species will be close behind.