Resource Ramblings 2004-03
General Stuff
The park has received funds from the Environmental Quality Division of the NPS to complete an Elk Management Plan and EIS. Preliminary meetings for this process were held in early February, with the first planning meetings scheduled with partners in mid-April. This process may take up to three years.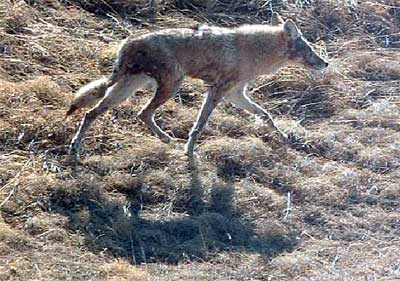 NPS Photo
Biological Sciences - Wildlife Management
The coyote project is being continued into its second year, as high occurrences of canine distemper and mange were found within the park. Continued study is warranted if black-footed ferrets, which are very susceptible to disease, are to be re-introduced in the Park. Of 15 coyotes collared by Jamie Chronert in 2003, 5 mortalities were due to mange. Of the 8 remaining, 2 are deteriorating from the disease. Trapping was started February 27, 2004, with the hopes of collaring an additional 9 animals. Blood will be drawn to continue the canine distemper testing to see if it is cycling throughout the animals in the Park. Fecal line transects to get population estimates will also be walked for a comparison of coyote numbers.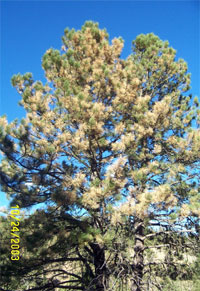 NPS Photo
Biological Sciences - Vegetation Management
You may have noticed ponderosa pines with red or brown needles, near the west entrance, along Highway 385. The majority of the damaged trees are outside the Park. The cause is believed to be hail damage from a storm that occurred last summer. Some branches have small scars where they were struck by hail stones. James Blodgett, USFS forest pathologist, does not expect heavy mortality from the hail damage alone. An important disease agent that could cause increased mortality is Sphaeropsis Blight or Diplodia Tip Blight. However, the Sphaeropsis Blight rarely kills the host tree because only current-season needles, shoots, and seed cones are infected and killed. The Sphaeropsis fungus over seasons in bark, needles, seed cone scales, or on the ground. In wet weather, spring through autumn, the fungus spores are disseminated by wind and splashing rain, by spittle bugs, and as mycelium on pine seeds. Wounds caused by hail provide an avenue for the fungus to infect damaged trees. Similar damage has been seen on the Black Hills National Forest from past hailstorms. There are records of such events in the Kirk Hill area in 1999, and long Sheridan Lake Road in 2000.
Physical Sciences
A recent publication stated that a minimum of 94 coal-fired electric power plants are currently planned in 36 states. The plants would add to the US ability to generate power, but would also pump more airborne mercury and greenhouse gases such as carbon dioxide, nitrogen oxide, and sulfur dioxide into the air. The burning of coal already produces more airborne mercury and greenhouse gases than any other single source. Although not against energy production, the Park continues to monitor (NADP and CASTNET) for these substances and provides comment on projects that may negatively affect park and community resources, including air quality and visibility.
Resource Information Management
The Park Service has posted a training class for using ArcGIS at the following url: http://www.nps.gov/gis/outreach/arcgis8x.html
The download file is rather large so if you prefer, you can access it off of our servers at: J:\help\ArcGIS\training
If you do not have the J: drive mapped, then go to: \\Inpwica20089238\Library\help\ArcGIS\training
Timing is good to begin learning GIS. ArcGIS 8.x is a move to the 'new' software and this training class shows that momentum is picking up. With our current data becoming available over the network and the ability to run the software from any machine, GIS is quickly becoming the tool that will be at your disposal. If you have any questions, contact Bill Koncerak.
Comments and feedback about Resource Ramblings are encouraged and can be made to Dan Foster, in person, or via email.