Resource Ramblings 2004-02
General Stuff
For those of you who don't know, we have a number of seasonal positions currently or soon to be advertised for the summer of 2004. Please let people who you know who may contact you about eh following positions: two positions for Cave and Karst Inventory, one position for Disturbed Land Inventory, two positions for Native Seed Mixes, three positions for Vegetation Management, and three positions for Exotic Plant Management.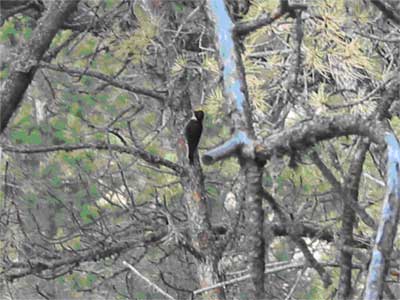 Photo by Dale Gentry
Biological Sciences - Wildlife Management
The first photo documentation of a black-backed woodpecker in the Park was made by Dale Gentry in December of 2003. The woodpecker was observed just south of Rankin Ridge fire tower. Dale is a PhD candidate working with Dr. Kerri Vierling on cavity using species in post-fire successional pine forests. Black-backed woodpeckers are a secretive and rare North American woodpecker closely tied to recently burned forest habitat. This woodpecker is monitored by the South Dakota Natural Heritage Program.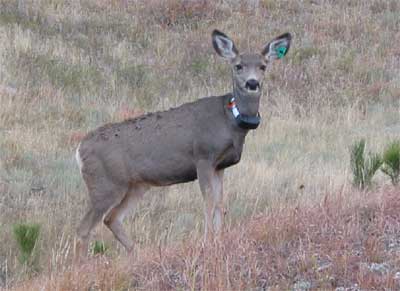 NPS Photo
The final deer capture operation took place of 14 January 2004, as 24 mule deer (8 males, 16 females) were captured in the park using a net gun from a helicopter. The operation began around 07:30 and ended around 14:00. The first deer was captures in the western port of the park and the remaining deer were captured on the eastern side of the park.
Four deer that had been previously collared were captured in the Boland Ridge area. In all, 24 collars (20 GPS and 4 VHF) were deployed. One of the deer subsequently tested positive for CWD and was killed by park staff on January 31. We now have 39 collared animals being tracked as a part of the study. The operation went very well. Thanks for all the help from each division and to the Great Plains Fire Module for funding the S-271 class. All the advanced planning and preparation paid off in that there were no mishaps or injuries.
Physical Sciences
Marc has completed the majority of restoration work in the Fairgrounds area of Wind Cave. This consisted of brushing, scooping, and hauling about 1200 pounds of lint/dust out of the cave, as well as washing former buried surfaces. Marc will be continuing restoration work throughout the winter with help from Interpretation. This work will focus on removing lint, hair, and other material shed from the trail along the Fairgrounds tour.
The upcoming issue of the NPS Inside Earth newsletter has an article from Marc entitled "Twenty-seven Years of Radon Monitoring in Wind Cave" and will be out soon. This can be viewed at: www2.nature.nps.gov/geology/caves/newsletter.htm.
Resource Information Management
In mid-January, Bill Koncerak conducted a meeting/demo explaining our GIS data structure, available software and methods of work. Those who attended received a lot of good information as to the ins and outs of the Park GIS. Please contact Bill if you need assistance.
Comments and feedback about Resource Ramblings are encouraged and can be made to Dan Foster, in person, or via email.