Resource Ramblings 2004-01
General Stuff
Thanks for the feedback on our first couple of Ramblings. Our intent is not to overload you with tons of info, but keep you informed on current and future happenings. Comments and feedback are encouraged and can be made to Dan Foster, in person, or via email.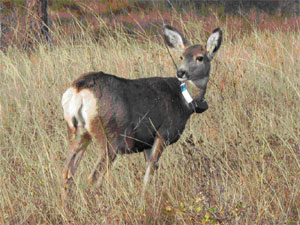 NPS Photo
Biological Sciences - Wildlife Management
The second and final deer capture operation is planned for the week of January 12-16, 2004. Twenty global position systems (GPS) collars will be re-deployed on 20 additional deer. These same collars were remotely dropped off in November 2003 from 20 deer that were captured and collared during the first capture operation. This time the collars will be programmed to stay on as long as the battery life will permit which should be until March 2004. There are also 16 other deer that are part of this study that have standard VHF collars.
NPS Photo
Biological Sciences - Vegetation Management
Hey. A number of us have been working feverishly on a Vegetation Management Plan for the park. It may not be all encompassing, but it is a start on a long needed planning component of the park. Our goal is to have a draft for park staff review and comments by the end of January. Please be ready to provide comments
Physical Sciences
Some of you may have noticed a person running around the area of the Natural Entrance to Wind Cave with a variety of equipment. Don't be alarmed. It is only Bjoern Zindler, a graduate student from Germany, working on his Master's Degree. He is participating in cave climatologic studies. One experiment he is performing is a measurement of how much air movement in and out of the cave is facilitated by the Walk-in Entrance. As a result, please do not use the Walk-in Entrance except in an emergency.
Resource Information Management
The Burn Management Unit map is being finalized, primarily for use in the FEAT program (Fire Ecology Assessment Tools). Part of this process is polishing the road and trails layers. This will benefit most of our GIS projects due to the high frequency of utilizing these coverages. Also as part of the FEAT process, data for surrounding parks is being incorporated into the filing structure which increases our available data.
Gate locations along the park boundary have been added to our GIS library. Gate types include 'Drive Through', 'Flood Gate', and 'Wildlife'. This effort was started when Kyle Hubrestse, a volunteer this past summer, began collecting GPS locations along the fence line from Wind Ridge Road to the West Entrance. The remainder of the boundary gate locations were entered from hardcopy. The hardcopy locations will be verified through GPS in the future as we obtain field input.
If you're not aware,there are some helpful files on the W-GIS machine that you may find useful. Under the "Library" folder, you'll find a "help" folder. From there you have several options, such as the "useful_tools" folder where you can copy a conversion_calculator to your desktop for easy data conversions (meters to miles, acres to hectare...you name it!). There is also a "how_to_avi" folder. This has short movie clips to show you how to map a drive, import a project into ArcView, etc. (sorry, currently no sound). Other helpful files can be found under the appropriate directory.
Near the end of January 2004, there will be a meeting/demo explaining our GIS data structure, available software and methods of work for those who are interested. We'll keep you posted.
Comments and feedback about Resource Ramblings are encouraged and can be made to Dan Foster, in person, or via email.