Resource Ramblings 2003-12
General Stuff
Hey, we received no comments on our first issue of Resource Ramblings. We hope that means you liked what we are trying to do. It has been decided that we will distribute this letter to all park employees via email. Please use discretion in printing copies though, particularly in color, as this can be expensive. Comments and feedback are encouraged and can be made to Dan Foster, in person, or via email.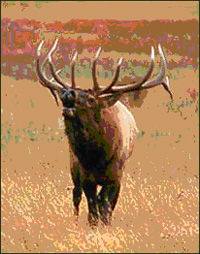 NPS Photo
Biological Sciences - Wildlife Management
We received some wonderful news in November. The park will receive funding, this year, for the preparation of an Elk Management Plan and accompanying environmental documentation. This plan is critical in establishing guidelines for managing this magnificent resource. This process is likely to take a while, so don't expect it to be done in a few months.
Biological Sciences - Vegetation Management
In anticipation of the preparation of an Elk Management Plan, Marie Curtin and the Vegetation Crew implemented a range evaluation study this past summer. This study (following established procedures from the Natural Resource Conservation Service) was designed to measure the forage available on park lands and determine how many animals the park could carry. The park received word from the Biological Resource Division of the US Geological Survey that they will provide technical assistance to help proof our studies and verify the findings. This is important, as it we will have scientific validation of the studies completed by the park.
Physical Sciences - Air Quality
In November, the NPS installed a Clean Air Status Trends Network (CASTNET) to measure data on the dry deposition component of total acid deposition, ground-level ozone and other forms of atmospheric pollution. This system was installed adjacent to the parks existing air quality monitoring station. If you go up on the hill, you will notice two new towers, one containing a weather station and the other the dry deposition monitoring equipment. We owe a lot of thanks to the Maintenance staff for their hard work in helping this get installed.
Biological Sciences - Cave Management
The park will be featured in the upcoming volume of Natural Resource Year in Review - 2003 for our efforts in restoration of Wind Cave. The article documents the work of cleaning and restoring a portion of the cave, as well as highlights the first known Cultural Landscape Inventory for a cave and its role in guiding the project. The park has PMIS project statements for continued restoration in the coming years. We are also on line for funding to replace the existing lighting system in 2006.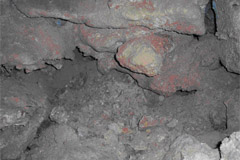 NPS Photo
Wind Cave restoration project before.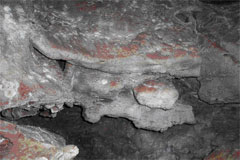 NPS Photo
Wind Cave restoration project after.
Physical Sciences - Cave Management
An article about the Park's Centennial Site discovery and work will appear in the next issue of Park Paleontology.
Resource Information Management
Within the next few months, we will be doing some exciting modeling for a variety of park needs. Some of the expected studies are:
south-facing slopes that are currently forested and how much acreage we would return to grassland if they were burned;
potential prairie dog habitat for the park;
detailed viewshed analysis to determine what areas of the park can be seen from various locations; and
geologic strata that could potentially contain cave formations within the park.
Comments and feedback about Resource Ramblings are encouraged and can be made to Dan Foster, in person, or via email.