Resource Ramblings 2003-10
General Stuff
This is the first issue of what we are calling our Resource Ramblings. This is an attempt to get information to you on what is happening in Resource Management in the park. Our desire is to keep you informed so you can plan to assist where appropriate, better educate the public, and do your job more fully. Comments and feedback are encouraged and can be made to Dan Foster, in person, or via email.
NPS Photo
Physical Sciences - Air Quality
As many of you are aware, the park has made great strides in the area of monitoring air quality. Wind Cave National Park was classified as a Class I Area under the National Clean Air Act of 1977. Under this designation, very little additional air pollution is permitted in the vicinity of the park beyond baseline levels of certain pollutants – particulate matter, sulfur dioxide, and nitrogen dioxide. In the last year the NPS installed a National Atmospheric Deposition Program (NADP) wet sampling station in the park (east side of Elk Mountain) to determine spatial and temporal trends in the chemistry of precipitation, primarily the measurement of nitrates and sulfates. In November, the NPS will install a Clean Air Status Trends Network (CASTNET) to provide atmospheric data on the dry deposition component of total acid deposition, ground-level ozone and other forms of atmospheric pollution. This is considered the nation's primary source for atmospheric data to estimate dry acidic deposition and to provide data on rural ozone levels. Used in conjunction with NADP, CASTNET can help determine the effectiveness of national emission control programs. In short, with this technology, we can then monitor the amount of deposition on air quality, determine where that deposition comes from, and work to reduce or remove the problem. Thanks go to the Maintenance staff for helping in this installation.
Physical Sciences - Cave Management
The park received funding for a two-year study of cave and karst resources. Through this project, we will hire two seasonal employees to inventory the park to find all cave and karst features, map them, and provide a baseline assessment of their status. At present, we have 26 caves, 8 shelter caves, and 65 other features.
Resource Information Management
Bill Koncerak is feverishly working on the Park GIS Plan. Included in this will be a determination of the critical data needed by the park and a timeline to ensure what we have meets accepted standards or to acquire/develop what we don't have. He will be meeting with Division Chiefs and other staff to determine your desires and needs.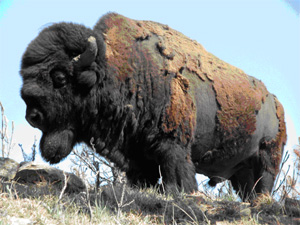 NPS Photo
Biological Sciences - Wildlife Management
The bison roundup was conducted during the week of October 20. We were able to ship out 135 animals, or 85% of our goal (the most bison ever shipped live from the park). We had no personnel accidents and had two bison die (1 to stress, 1 to bull goring). Thanks to all that helped, with special kudos to Barb M. and Steve W. for all their extra work and efforts.
Biological Sciences - Vegetation Management
In case you haven't noticed, a project was initiated to aid the park's aspen clones by reducing competition from ponderosa pine (Pinus ponderosa), and to protect aspen clones from wildlife browsing. Ponderosa were mechanically thinned from two areas and a fence, encompassing 45 acres, was installed to protect several aspen clones. This project was funded by the Park, Rocky Mountain Elk Foundation, and the NPS Challenge Cost Share Initiative.
Comments and feedback about Resource Ramblings are encouraged and can be made via email.