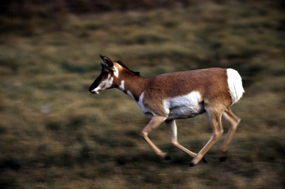 NPS Photo by Tom Bean
The running gait of the pronghorn is beautifully smooth and their powerful legs can carry them at a remarkable pace across the roughest kind of terrain. As the fastest North American mammal, pronghorns can reach speeds of 60 miles per hour. At high speed they cover the ground in great strides of 14 to 24 feet, and are known to run for long distances at speeds of 30 to 40 miles per hour.
Fall signals the beginning of the intensive mating season. The territorial bucks are especially aggressive in defending their areas. Brief fights develop between males and occasionally one is seriously injured. Ambitious bucks may develop harems of 3 to 8 or more does.
The young are born in late May or early June with about 60% of the births being twins. At birth, fawns weigh 5 to 6 pounds and lack the spots that are characteristic of deer and elk fawns. The newborn do not have an odor and instinctively lie motionless for hours. This is their main defense from predators such as bobcats, eagles, and coyotes.