How to Raise a Bison Herd
NPS Photo
In 1913, when the American Bison Society began the process of establishing a free-ranging bison (or buffalo as they are often called)herd in the newly created Wind Cave National Game Preserve, they looked to the New York City Zoo to get their animals. Here, William Hornaday had been collecting and breeding some of the few remaining wild bison.

Fred Dille, of the U.S. Biological Survey, was in charge of accomplishing this special task. To start, he had to determine how to move fourteen bison from New York City all the way across the country to their new home near Hot Springs, SD.

At the zoo, animal handlers had to build special crates for the bison and then load them onto an express train. That 2,000 mile journey took 2½ days. Once the bison arrived in Hot Springs, every available truck and cart was pressed into service to move them the remaining eleven miles to the preserve. This unprecedented journey took a surprising ten hours.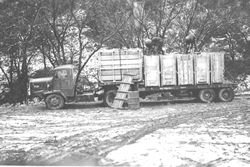 NPS Photo
By the time the bison reached the preserve, quite a crowd had gathered to see them released. There was only one problem. The bison were not willing to back out of a crate! The frustrating process was described by Dille, "To suggest to a buffalo that he must back out of the crate by poking him in the head, will work with an elk but not a bison. Your actions are but a challenge to him and he does not propose to give ground." The final operation was more a process of removing the crates from the animals than the animals from the crates. At last however, the bison were released and began their new life on the prairie. Six additional bison from Yellowstone were added to the herd in 1916.

In 1935, when the park and preserve merged, care of the animals was given to Wildlife Ranger Estes Suter. Suter was interested in creating a herd that looked and behaved like bison of the "old days". He worked with Native American elders and locals to determine what a "true buffalo" really looked like and culled the herd to achieve that goal.

Thanks to Suter's early work and because the park's bison came either from the New York City Zoo or from Yellowstone, Wind Cave has a very special herd. Genetic testing done in 2004 showed that Wind Cave's herd is one of the only federal herds free of cattle gene introgression. What does that mean? Early in the history of preserving bison, pioneers were challenged with not only preserving the species but also making it economically successful. To do this, many ranchers experimented with domestic cattle-bison crosses. They hoped to produce a "heartier beef breed" that would be resistant to disease, require less feed, and produce more calves. This tampering be-came apparent when genetic analysis revealed evidence of domestic cattle gene introgression in many bison herds examined.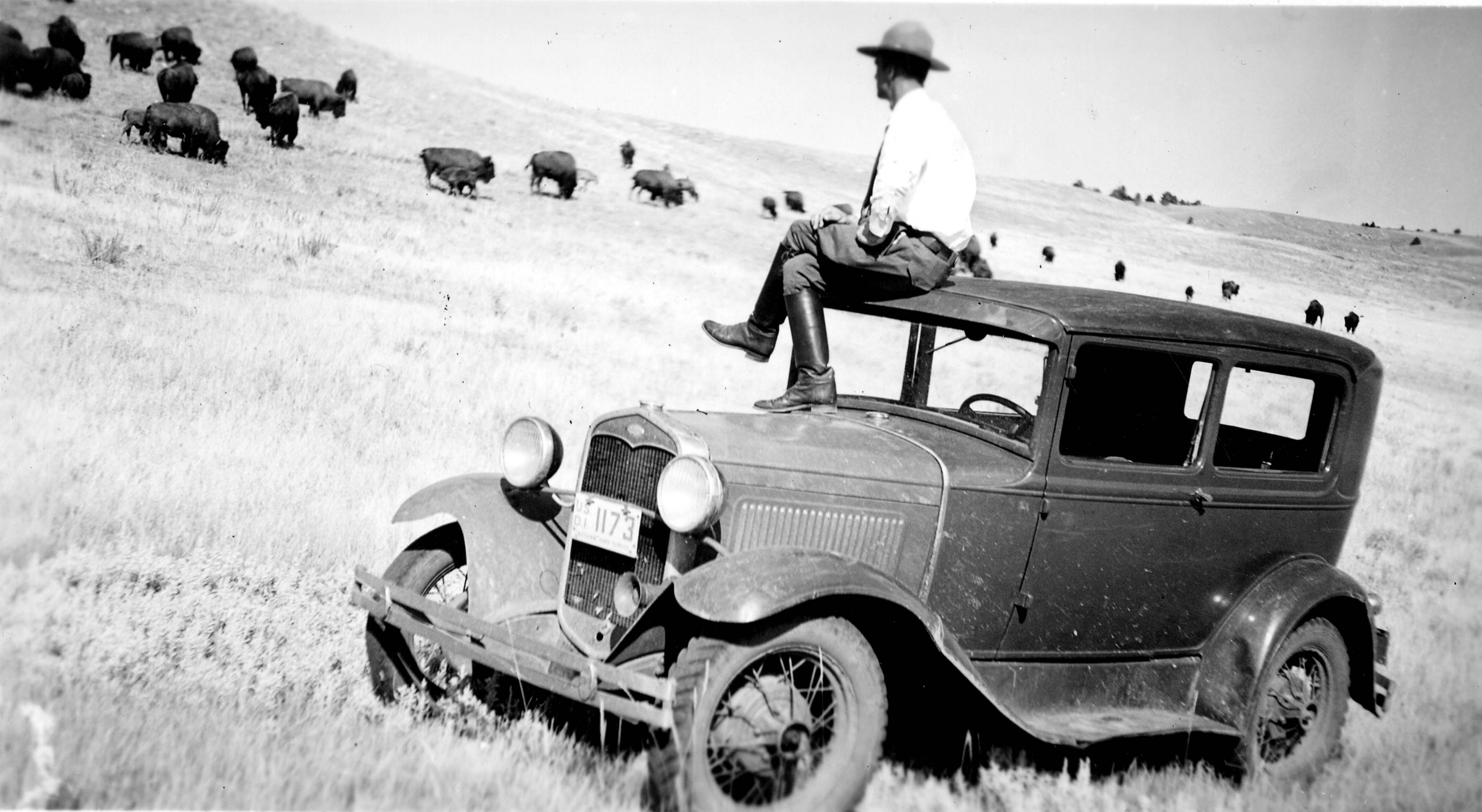 NPS Photo
Today, unlike when Estes Suter sat on top of his car to decide which bison to keep and which to cull, park biologists strive to protect the herd through scientific testing. Ideally, "wild" bison would live in free-ranging, naturally regulated herds. But that is not possible. Most herds are confined and subjected to varying degrees of management. Therefore herd size, population structure, levels of genetic variation, and the incidence of domestic cattle introgression must all be considered in the park's management decisions.

For Wind Cave, the effort to establish a wild bison herd started with 14 animals. The importance of that story was noted when one of the original 14 bison died. The bison, named "Sandy" because of his light color, "succumbed to the rigors of his 24th winter" in December 1936. Newspapers reported the event well. "There are doubtless hundreds of buffaloes born on the plains which spent their last days in some park or zoo, but Sandy was one of the few to be born in a zoo and to die on the open range."
Suter, Hornaday, Dille, today's resource managers, and others have taken part in this adventure. They have provided us with the opportunity to see bison born and raised on an "open range". And, if we are lucky, to see a herd so large they seem to fill the prairie.