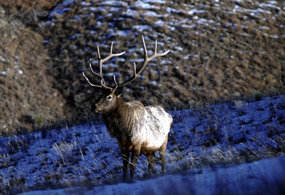 NPS Photo by Mike Bromley
Like other members of the deer family, elk have distinct summer and winter coats. The elk's summer coat is a deep, reddish-brown with an almost orange-colored rump patch. This coat becomes a more gray-brown with a cream-colored rump patch during the winter.
The antlers of the adult Rocky Mountain bull elk consists of a long beam, sweeping up and back, usually with six tines. The average set weighs about 30 pounds. During summer, an adult bull's antlers are growing and are covered with a live, blood-carrying tissue called "velvet." When the antlers are full-grown and the velvet has been rubbed off, the elk are left with the shiny and hard rack typical of bull elk in the fall.
The first set of antlers of a young bull begins to grow when he is almost a year old. They are only spikes about 10 to 24 inches long.
These, like the adult's antlers, are shed in the early spring. By the time a young bull is four years old, he usually has the six-point antler characteristic of a mature bull.