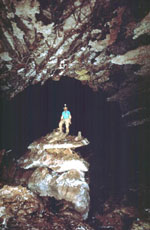 NPS photo
SOUTHERN COMFORT
Most discovered passages at Wind Cave lie underneath one square mile. Many attempts have been made to find passage beyond this square mile, but passages always seem to pinch off. Its almost as if there are walls on all four sides keeping Wind Cave within a square.
On September 28, 1991 several explorers went to explore a possible lead beyond the "Silent Expressway", in the southwest corner of the cave. This trip involves a 4 hour squirm from the entrance with many tight and nasty crawls. During their exploration they found a passage off the "Looney Tubes" that led to a sharp squeeze named "Les Miserables". This led to a huge passage, named "Southern Comfort", 600 feet [200 m] long, 50-100 feet [15-30 m] wide, and 30 feet [10 m] tall. These passages went 650 feet [220 m] further south than any other passage in Wind Cave! Wind Cave is no longer square! New discoveries were made in this room including a new form of boxwork.

Exploration involves more than just finding a passage. Survey equipment including a compass, measuring tape, and inclinometer (which measures the slope of the passage) are used to map the cave. Also careful notes and sketches are made to record things found in the passage.
Newly explored passages harbor the untouched beauty of the unique and delicate formations that decorate them. During one exploration trip an exciting formation was recorded in a report. "It is a helictite bush that if not the biggest ever seen by man has to be a close second. The bush starts near the ceiling and continues behind a rock and then down to the floor. The total height is about six feet, the width being about three feet, and it is about two feet thick." The formation was named Emperor Maximus I.
Through the years of exploration many discoveries have been made. In the historic sections of the cave remnants of the past, such as the Chicago Tribune newspaper from 1892, can be found intact in the protected cave environment. Skeletons of rats, bats and birds have been found in the cave as well.
The first report of exploration in Wind Cave was in the fall of 1881. Black Hills pioneer Frank Herbert said he was "talking with Charles Crary in Custer [and] he told me about hole in the ground where the wind came out screeching ... he had been in there and explored it some and left a ball of string unstrung along its route." After this several people managed to squeeze through the natural entrance to enter Wind Cave.
In 1959 exploration trips conducted by the National Speleological Society, a group devoted to the exploration, study and protection of caves, resulted in new passages being mapped within the vicinity of the tour routes. Their explorations renewed interest in exploring and studying the unique passages of Wind Cave.