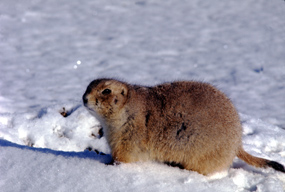 NPS Photo by P.T. Bromley
Blacktail prairie dogs have incomplete hibernation, their activity and appetite are decreased during the winter. They may sleep for many days at a time, but the town is usually active during the milder days of the winter.
Common predators of the prairie dog include coyotes, bobcats, eagles, hawks, badgers, and weasels. One member of the weasel family, the black-footed ferret, deserves special mention. They are perhaps the rarest mammals in North America, depending primarily upon prairie dogs for food. Widespread poisoning of prairie dog towns endangered the existence of this interesting mammal.
Other animals may also be found in prairie dog towns. Snakes, including rattlesnakes, are fond of using abandoned burrows as homes, as are burrowing owls, birds with long legs and short tails. The owls can sometimes be seen standing on a mound in the midst of a prairie dog colony, creating little or no disturbance among the other inhabitants of the town.
For more information about Wind Cave National Park's prairie dog management plan click on management plan.