Wildlife Management - Raising Wildlife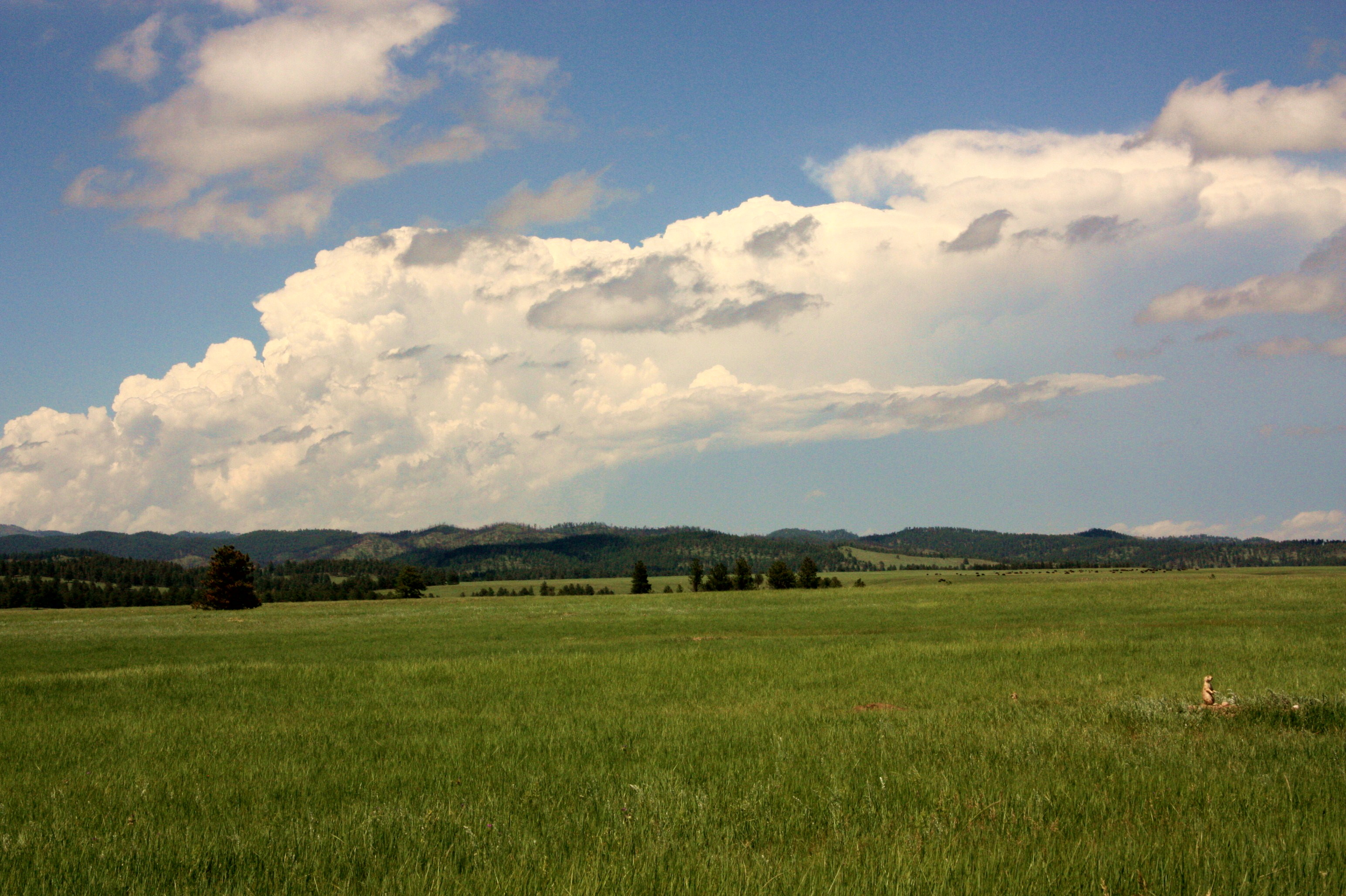 NPS Photo
When Wind Cave was set aside as a national park in 1903 little more than eight miles of cave were known. It was a quiet place in western South Dakota where unique cave formations dazzled visitors and geologists alike.
The surface world - a mixed-grass prairie and ponderosa pine forest - gathered little attention. The vast prairie of the Great Plains was an ecosystem to conquer - an action needed to make way for farms and ranches. As this conquest transpired, habitats for thousands of different organisms disappeared; gone were the bison, elk, and pronghorn antelope that once roamed the land. The disappearance that gained the most discussion was the demise of the bison. These magnificent animals were being wantonly slaughtered.
In response to the carnage, and in an effort to reestablish free-ranging bison herds throughout the country, Teddy Roosevelt and William Hornaday created the American Bison Society. As the Society looked for suitable homes for these animals, they noticed the prairie of Wind Cave National Park. Within the park was a mixture of wide open prairie and small forested areas - habitats perfect for the reintroduction of vanishing prairie species. In August 1912 Congress established the Wind Cave National Game Preserve for the purpose of reintroducing bison and other wildlife threatened by changes occurring on the Great Plains.
NPS Photo
Returning the Animals
Fourteen bison were shipped to the preserve from the New York Zoological Society in 1913. In 1914, 14 Rocky Mountain elk from Yellowstone National Park and 13 pronghorn antelope from Alberta, Canada were added to complete the prairie scene. Wind Cave National Park was on its way to becoming a home for prairie wildlife.
NPS Photo
Learning to Manage Wildlife
Because the practice of raising wild game animals under semi-natural conditions was relatively new, A.P. Chambers, the first warden of the preserve, experienced many challenges creating healthy, wild herds.
NPS Photo
Growing Herds
The bison and elk survived with very little trouble. They quickly adapted to the park area and by 1920, the bison reached a population of 100 and the elk, 200. To keep the herd sizes in balance with the range, managers culled animals by selling them or moving them to other preserves.
NPS Photo
Challenges with the Pronghorn
Raising pronghorn antelope was one of A.P Chambers greatest challenges. These curious little animals seemed to die for no apparent reason. Chambers kept the captive pronghorn in small enclosures and fed them ground corn and alfalfa. The food apparently disagreed with them since he reported three had died of indigestion.
Wild pronghorn, according to biologist Fred Dille in 1913 "are crazy to handle. So the wise heads of the Biological Survey figured it was best to capture the kids when first born and rear them. This was successful except they were too tame and not afraid of any dog or man." It's easy to see that Chambers would have trouble from predators.
In 1918 coyotes were such a nuisance that a federal trapper was brought in to rid the preserve of them. Between 1912 and 1921, 598 predators were killed. Still, by 1924, the herd was down to only seven does. At that time a pronghorn buck was brought in from Nevada and the herd began to grow again.

Eventually, Chambers realized that the problem was not totally the fault of predators. Pronghorn, the fastest North American land mammal, need space to escape predators. Keeping them in enclosures was like serving them up as a meal to predators. Chambers summarized his challenges saying, "The propagation of the (pronghorn) antelope is difficult …the only way this can be accomplished is by setting aside large tracts of land... They will not thrive in confinement."

In 1935, the preserve and Wind Cave National Park merged. Soon the Civilian Conservation Corps removed interior fences to create an 11,000 acre range. The new space seemed to have an effect on the pronghorn, "It was interesting to watch the antelope the first day they found they could get on the new range… They covered the entire east range in a comparatively short time, running in all directions…"

Today there are more than 150 pronghorn in the park, but their numbers still fluctuate depending upon the numbers of coyotes and other predators. Resource managers annually count these swift creatures to make sure the park has a healthy reproducing population.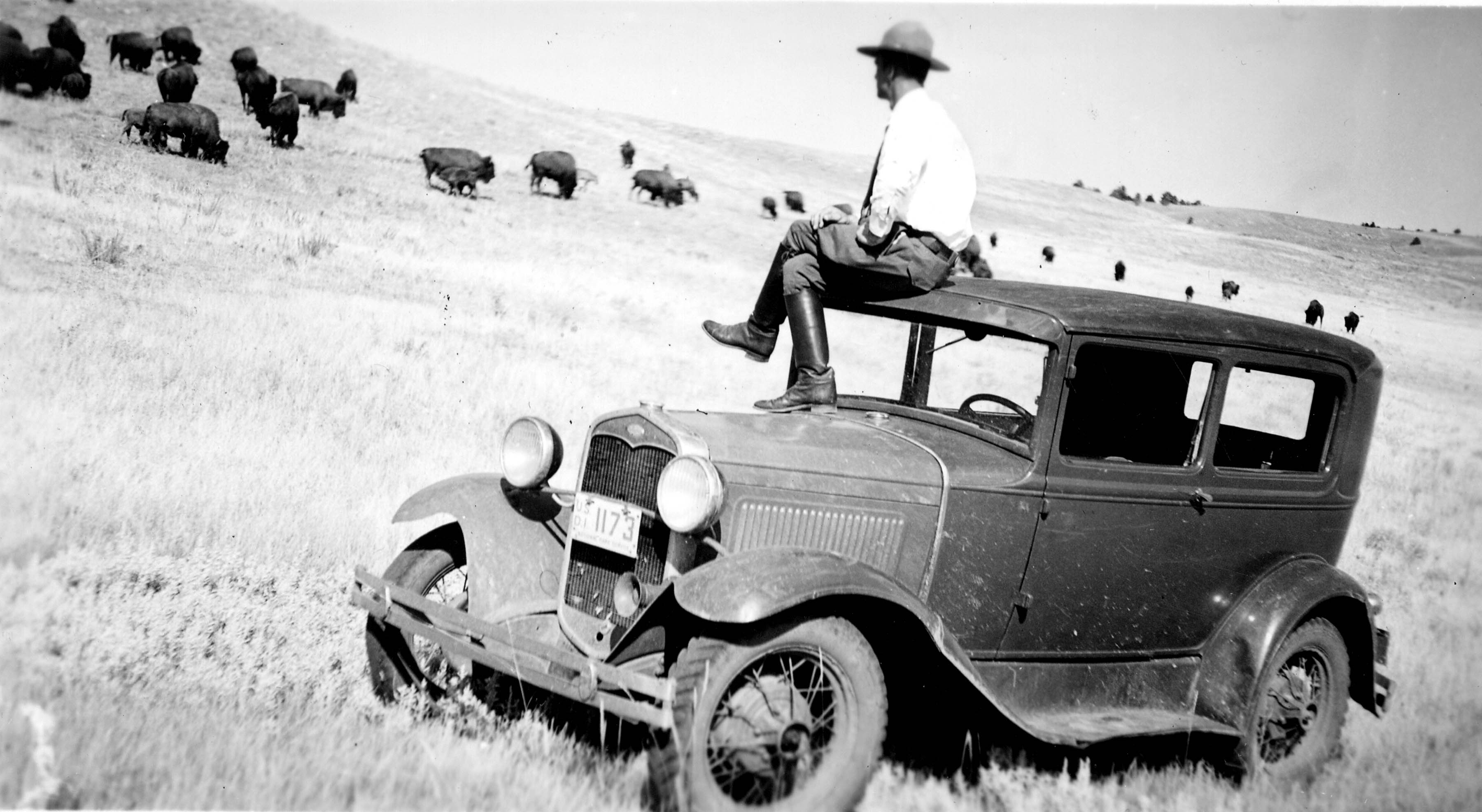 NPS Photo
Looking to the Future
In 1935, when the park and the preserve merged, care of the animals was given to Wildlife Ranger Estes Sutter. Sutter was interested in creating a herd that looked and behaved like bison of the "old days". He worked with Native American elders and locals to determine what a "true buffalo" really looked like and culled the herd to achieve that goal.

Thanks to Sutter's early work and because the bison in the park came either from the New York City Zoo or from Yellowstone NP, Wind Cave has a very special herd. Genetic testing done in 2004 showed that Wind Cave's herd is one of the only federal herds free of cattle gene introgression. What does that mean? Early in the history of preserving bison, pioneers were challenged with not only preserving the species but also making it economically successful. To do this, many ranchers experimented with domestic cattle-bison crosses. They hoped to produce a "heartier beef breed" that would be resistant to disease, require less feed, and produce more calves. This tampering became apparent when genetic analysis revealed evidence of domestic cattle gene introgression in many of the herds examined.

Today, unlike when Estes Sutter sat on top of his car to decide which bison to keep and which to cull, park biologists strive to protect the herd through scientific testing. Ideally, "wild" bison would live in free-ranging, naturally regulated herds. But that is not possible. Most herds are confined and subjected to varying degrees of management. Therefore herd size, population structure, levels of genetic variation, and the incidence of domestic cattle introgression must be considered in their management. The park's resource specialists address these factors in all management decisions.

For Wind Cave, the effort to establish a wild bison herd started with 14 animals. The importance of that story was addressed when one of the original 14 bison died. The bison, named "Sandy" because of his light color, "succumbed to the rigors of his 24th winter" in February 1936 according to newspaper reports. "There are doubtless hundreds of buffaloes born on the plains which spent their last days in some park or zoo, but Sandy was one of the few to be born in a zoo and to die on the open range."

NPS Photo by Tom Farrell
One Hundred Years and Still Going
In 2007, Wind Cave National Park continued its role as a place that reestablished native species to the Great Plains. Forty-nine black-footed ferrets were reintroduced to the park's prairie dog towns with more added in 2010. The presence of this remarkable predator helps restore balance to the prairie ecosystem and provides an opportunity for visitors from around the world to see a rare and elusive animal on the prairies of Wind Cave National Park.