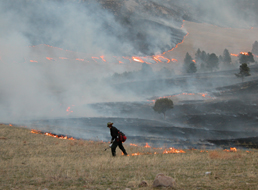 Fire crews light the prescribed fire with a drip torch (a can of fuel with a flame-carrying wick at the spout). When the drip torch is tilted, fuel squirts past the wick and creates a stream of flames that lands where the drip torch is pointed.
The burn boss and ignition specialist usually determine where the fire should be placed and direct the operation of the person carrying the drip torch. Most of the fire crew members concentrate on containing the fire within the previously constructed firebreaks. Crews use fire hoses, flappers, and backpack pumps filled with water to control the edges of the fire at the firebreaks. Nearby fire engines and water tenders (tankers) can be mobilized if they are needed.
After fire crews complete the prescribed fire and extinguish smoldering remains, the site looks charred and lifeless. However in less than three days the basal (base) leaves of prairie plants such as little bluestem, buffalo grass, black root sedge, needle and thread grass, and prairie sand reed appear under the charred remains.