Terra Cotta Trail Discovery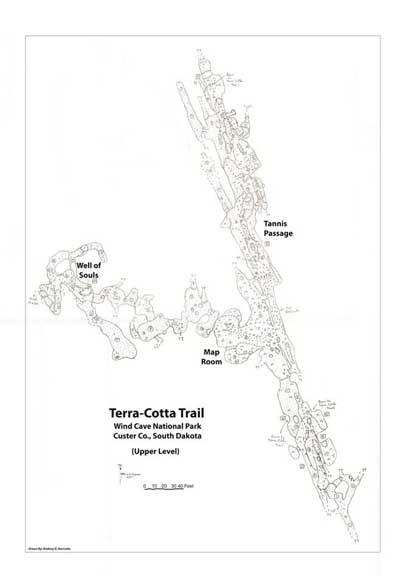 NPS Map
1st Trip: On 3/15/2001, Rod Horrocks led a Utah crew, Dave, Ryan, and Jordan Shurtz to the New Beginnings Room area in the Historic Section where they discovered the Terra Cotta Trail passage.
Trip Report: I took an old Utah caving friend and his sons to the New Beginnings Room area to push leads. We started by shooting up into a dome. After shooting up into a paleofill crawl, we surveyed into a rift passage, which reminded me of the rift passages in Lechuguilla Cave in New Mexico. Crawling along the top of the rift, we could see 30-40 feet down the steeply sloping passage to Lenas Arbor area along the Natural Entrance Tour Route.
Continuing down the virgin crawl, we wound through some breakdown blocks. When we got to a corkscrewing squeeze that I couldn't fit through, I left the others and climbed back down to Lenas Arbor in an attempt to find another way into the continuing passage past the squeeze. Climbing up to the base of the rift, I went right into the C36 survey. When I heard voices, we found a squeeze and pit at C36M that allowed me to rejoin the group in a virgin room they had just surveyed into. Everything was in the upper middle level. We named the rift "Arcane Rift", since only a few people (us four) know how to get into the obscure rift.
After surveying a small room in the middle level, that was located directly underneath the upper room, we continued on to the north. We left six leads in the rift to survey later. After squeezing through a nine inch window located near the ceiling at station L'5Z, we found ourselves in a large passage with a 20-foot pit. We were able to traverse a ledge on the right side and continue to the NW. The passage headed north, 50 feet above the paved Natural Entrance Tour Route.
We surveyed under a dome that opened into an upper level and to a junction covered with popcorn. Taking the left-hand tube, we found a dry pool of yellow subaqueous pool spar (we took a picture). After a bellycrawl, we rejoined the right-hand tube and surveyed under another dome that opened into the upper, parallel tube.
We decided to name the passage "Terra-Cotta Trail" because of the brownish orange calcified sediment floors that reminded us of Terra-Cotta tiles. Continuing straight ahead, we passed some flowstone deposits (got a picture of that too) and then we found a pocket of purplish brown, dark dogtooth spar with small, clear spiraling crystals off the tips. Continuing to NE, the passage finally ended after 320 feet. We found a very tight hole through the chert roof near the end that led to an upper virgin level that goes all over. All together, we left plenty of leads in this area and surveyed a total of 626 feet.

NPS Map
2nd Trip: On 5/29/2001, Rod Horrocks led Dave, Ryan, and Jordan Shurtz back to the Terra Cotta Trail area in the Historic Section.
Trip Report: A couple of months after our discovery of Terra Cotta Trail, the Shurtz's came back to the Black Hills to continue our survey. Starting at the first pit, we surveyed down a fissure passage that had some candle wax drippings, candles and an 1892 date at the bottom. Curiously, they hadn't made the easy climb up into Terra-Cotta Trail. We then surveyed a side passages at CQ64. It connected via a tight bellycrawl to C39VD. We then closed a loop between CQ64 and CQ66 and surveyed up into a fissure with two short side passages at the top. Going on to CQ67, we surveyed up another fissure in the ceiling. Interestingly, there are four levels in this area, each right on top of the other. The top level was in the Upper Level and was accessed via a very tight vertical squeeze. Everything got too tight at that level.
Dropping back down to the 2nd level, we surveyed a couple of short passages extending both ways (NW-SE). We then dropped down to the 2nd level and surveyed NW along a comfortable passage that led to a room we named the Map Room. We named it this because the flat chert ceiling was covered with large (4-6 feet long) dendrites that resembled the line plot of Wind Cave. It was also a play on the Map Room in the movie "Raiders of the Lost Ark". A passage headed west from this room, which interestingly is the only westward trending passage in the whole Terra-Cotta Trail area. After a short dig through a complete choke, we found a decorated area and a tight squeeze that continued to a 30-foot deep pit with boneyard maze at the bottom. It was all very nasty cave!! We abandoned the area and backtracked to the NW trending passage. This continued for some distance before becoming too tight. We left 2 good leads, 11 tight leads and a couple of digs. We decided to name the pit the "Well of Souls", again with the Raiders of Ark theme. With 851 feet of survey for the day, this brought the total survey in this new area to 1,615 feet.
3rd Trip: On 6/25/2001, Rod Horrocks led Jake Turin and Stephen Smith back to Terra Cotta Trail.
Trip Report: We went to push leads in the Terra-Cotta trail area, but it turned out to be a mop-up trip. We pushed numerous small virgin leads, but nothing went any distance. At CQ73, we surveyed up a dome, connecting to the Tannis Passage. At DW8, we surveyed up a small dome with slight air. It got too tight. We surveyed some leads at DW8, one of which looped back to DW6. We left one going lead at DW8 that continues to the NW. This may go. We were able to mop up 293 feet in several small leads, leaving several leads for a return trip. This brought the total survey in the Terra Cotta Trail area to 1,907 feet.
4th Trip: On 8/2/2001, Rod Horrocks led Dave Fairfield, Graham Hogg, and Rainer Engler back to the Terra Cotta Trail area in the Historic Section.
Trip Report: Graham and his Canadian caving friends came down to help me continue pushing the Terra Cotta Trail area. We started mopping up side leads along the main Terra-Cotta Trail passage. A lead at CQ72 dropped into a very small room and promptly ended. A tight dome nearby connected up to the Tannis passage, where we tied into DW10. Moving on to CQ75, we surveyed down into a pit that doubled back underneath itself. Squeezing underneath a loose rock in the floor that was holding up other rocks, we entered a large rift passage. The squeeze was a little dicey. Looking down a pit, we could see tour lights 30-feet below. We dropped a Mylar tag down the pit so we could go down to the tour route later and determine where we had connected to the Natural Entrance Tour Route. Surveying across the pit, we stopped at a tight vertical squeeze. Looking through it, we could see that the passage continued beyond. We left that lead for the next generation. Returning to the paved trail, we walked up the Natural Entrance Trail until we found our Mylar tag at Miltons Study. The Canadian cavers on the trip decided to name the connection the Alberta Connection, since they are from Edmonton, Canada and they found the pit. The whole Terra Cotta Trail area is about 50 feet directly above the paved trail.
5th Trip: On 8/16/2005, Rod Horrocks led Andy and Bonny Armstrong back to the Terra Cotta Trail area in the Historic Section.
Trip Report: I took the Armstrong's to the Terra Cotta Trail area in the Historic Section to specifically push leads that I haven't been able to fit into. We started by surveying up a dome that connected to the Tannis Passage at CQ67C'. We then went to the end of Terra Cotta Trail to push the area past the tight chert squeeze at CQ77. The Armstrong's both fit thankfully. They surveyed up to the NW, where they hit a dead end. They then surveyed to the south and then east where they connected to TZ36, a lead from one of my previous surveys in the Twilight Zone area. They then surveyed up a dome to a passage that connected into another lead I wanted to check today off of the Tannis Passage, where they tied into DW21. Once they rejoined me, we then surveyed a small dome lead off of CQ75A. I noticed some flexible boxwork located nearby. It was white with frayed edges. We've now found flexible boxwork in three areas in Wind Cave that I know of. We then climbed up to the Tannis Passage and surveyed a dome at DW4. We shot to the NW and SE. The passage going SE actually constricted down before opening up into a small room. However, the constriction was too tight. We then checked the dome at CV67V, but it was too tight, even for the Armstrong's. With this 210 feet o survey, the total survey in the Terra Cotta Trail area stands at 2,359 feet.
Click here to return to Caving Narratives.