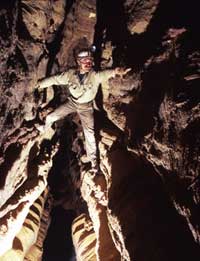 NPS Photo by Jim Pisarowicz
Wind Cave National Park protects two very different worlds - one deep within the earth, the other a sunlit world of many resources. The park is also one of America's first national parks.
The stories of Wind Cave National Park tell the tales of exploring one of the world's longest cave systems, the development of the world's first national park to protect a cave, returning the wildlife to the park's surface world, the work of groups such as the Civilian Conservation Corps to prepare the park for visitors, and the ongoing conservation efforts to protect a mixed-grass prairie ecosytem.


Wind Cave Trip Reports

Track the year by year discoveries of cave explorers in Wind Cave Read More

The Black Hills

Learn more about the people, the places, and the history of the Black Hills. Read More

The National Park Service

The history of the establishment and evolution of the National Park Service Read More