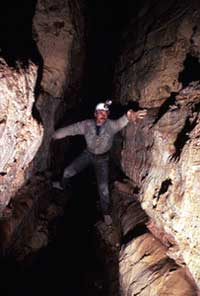 NPS Photo by Jim Pisarowicz
Cave Exploration
While investigating the naturally operating systems, park managers realized that the cave is not an isolated environment. What happens on the land can and often does influence the cave. Understanding where cave passages are located in relation to the land above helps us avoid damaging the cave. For example, if the land is altered, it might change the way water travels through the cave and change cave formations. Exploration is important and is a continuous project with several miles of new cave being surveyed each year.
Wind Cave Today
The mission of Wind Cave National Park is to preserve and protect the natural resources. Wind Cave National Park is 33,851 acres. Because of its relatively small size and because there are missing parts, park managers must take an active role in helping the ecosystems function as they might have in the past. This requires understanding how everything in the park relates and how the naturally operating system would have functioned. Park rangers work with researchers to replicate that natural system using prescribed fires, bison round-ups, and biological control of exotic plant species.
In order to restore some of the missing parts to the park's ecosystem on July 4, 2007, working with the US Fish and Wildlife Service, park biologists reintroduced one of the litttle known predators of the prairie - . These rare animals live on praire dog towns and can consume over 100 prairie dogs in one year. They help maintain balance and restoring them continued the long history of Wind Cave National Park as a home to prairie plants and animals.
How we accomplish the mission of the park is determined by what we know about the park. The land, the animals, and the cave are all related and it is only when we understand the resources and their connections that we can best protect Wind Cave National Park.