CCC - The Work and Play of Camp Wind Cave
NPS Photo
NP-1 Projects
The Park provided excellent training opportunities for the enrollees. Inside the cave they installed concrete steps and an indirect lighting system, repaired the tour trails, helped sink a 208 foot elevator shaft, and began a cave survey. On the surface they sloped road banks, built a fence around the park to contain wildlife, built fire trails, planted hundreds of trees, built concrete reservoirs, remodeled park buildings, landscaped the headquarters area, and occasionally fought forest fires.
NPS Photo
Other CCC Opportunities
The Corps was not all work. The Wind Cave baseball team won the South Dakota State Championships in 1935 and 1936. Mrs. E. Dixon Freeland, music instructor and park superintendent's wife, organized the Wind Cave Quartet. The music group became well known throughout the Black Hills. Several different academic and vocational evening classes were offered. Many enrollees earned their high school diplomas and gained valuable work skills.
NPS Photo
The CCC crew also carried in the cables for the first major lighting system in the cave.
NPS Photo
The CCC crew carried concrete into the cave to create the steps along the trail. They used inner tubes to carry the wet concrete. The 70 to 80 pounds in each tube generally had enough concrete to make about 1/3 to 1/4 of an average step.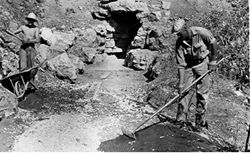 NPS Photo
NPS Photo