CCC - Changing the Nation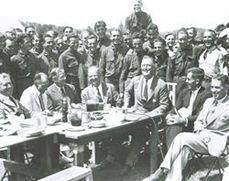 Speed of the Program
March 31, 1933 - The Civilian Conservation Corps is created.
April 7, 1933 - Induction of first enrollee.
April 17, 1933 - Camp Roosevelt, the nation's first CCC camp, is established in Virginia.
July 4, 1933 - 275,000 men are enrolled in the CCC program; 1,330 camps established.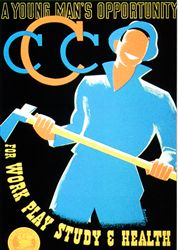 Who Participated
Men between the ages of 18 and 25, and unemployed veterans, could enlist for a period of six months with an option of extending the service to two years. They were paid $30 per month with $25 being sent home to help their families. The government furnished room, board, clothing, and tools. At its peak in 1935, the CCC employed 502,000 men in 2,514 camps. Most camps were segregated. Native Americans worked on their reservations but did not live in organized camps.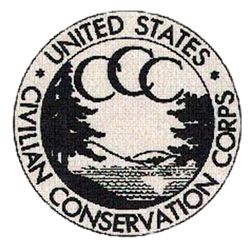 The Results
Congress abolished the CCC on June 30, 1942, as the United States entered World War II. For nine years the program kept families from starving, employed 3 million young men, and improved the country's natural resources. Men from the Corps answered the call to war well trained, physically fit, labor skilled, and with the great CCC attitude of "We Can Take It!", changing the nation even after the program had ended