Cave Exploration - Herb and Jan Conn and Dave Schnute
NPS Photo by Dave Schnute
Jewel Cavers Breakaway
When exploration trips into Jewel Cave were restricted, Herb and Jan Conn, along with Dave Schnute, began to direct their efforts to Wind Cave. In 1963 they made a break-away from the known portion of the cave. This was the first breakaway in Wind Cave since the days of Alvin McDonald. Herb and Jan kept a diary of their explorations of Wind Cave.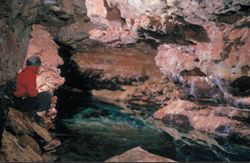 NPS Photo by Dave Schnute
NPS Photo by Dave Schnute
Big Cave Discovered
Schnute and the Conns also headed west through the Roadblock, down Lonesome Road, to the Chinese Mushroom, and finding the truly massive Club Room.
From 1963 until their return to intensive survey in Jewel Cave in 1965, they surveyed 15,740 feet of virgin cave and set the stage for even larger discoveries to be made several years later.
NPS Photo by Dave Schnute