Cave Exploration - Colorado Grotto
NPS Photo Archive
Colorado Meets South Dakota
Members of the Colorado Grotto were very active during the early 1960's at Wind Cave. They were involved in extensive surveys around the Natural Entrance, the elevators, and Pearly Gates areas. New discoveries were made including the Xerox Room, the Popcorn Room, Independence Hall, Red Crystal Canyon, and Mammoth Canyon. Today this section of Wind Cave is referred to as the Colorado Grotto Zone of the cave.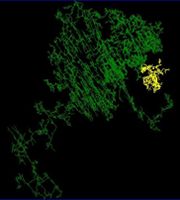 NPS Map
Lost Caver!
The Colorado Grotto was instrumental in finding the lost NOLS (National Outdoor Leadership School) student in Wind Cave in 1989. This incident renewed the Grotto's interest in exploring and mapping Wind Cave and the park's interest in getting more cavers familiar with the cave. Today, members of the Colorado Grotto comprise some of the most active explorers at Wind Cave.
NPS Photo by Jim Pisarowicz
50 Miles and Beyond
John Scheltens in cowboy hat (Windy City and Paha Sapa Grottos), Alan Williams top center and Ed LaRock white helmet (both Colorado Grotto), and Jim Nepstad orange helmet (NPS) comprised the team that mapped Wind Cave's 50th Mile on August 15, 1987.
Into the Unknown on Weekends
In 1990, the Wind Cave Weekend Survey Project was started by the Colorado Grotto. Between 1990 and 1998, 18 miles were added to the surveyed length of Wind Cave. Since 1999, the Wind Cave Weekend Project has continued and, coupled with increased survey work by off duty park staff, an average of 7 miles a year are being surveyed.
NPS Photo by Jim Pisarowicz