Cave Exploration - Cave Management
NPS Photo by Bill Holmes
Recognizing A Need
In 1982 Kay Rohde began working at Wind Cave as the park's assistant chief of interpretation. At the time, Wind Cave National Park had no management plan for its cave resources. Rohde identified the need for cave management based upon scientific data and began assembling a team of rangers to accomplish this task.
NPS Photo by Jim Pisarowicz
First Cave Management Ranger
In 1984 the first cave management position was filled by seasonal ranger Warren Netherton. Netherton began organizing cave maps, inventory and survey data and documenting algae removal, cave restoration that needed to be done and tracking cave use.
NPS Photo by Rick Day
"Why don't you write a plan"
Caver Jim Pisarowicz also started work at Wind Cave in 1984. When Pisarowicz said to Rohde that he was surprised that the first cave to be a national park in the world did not have a management plan, Rohde said to him, "why don't you write a plan." He did and it became the first draft of the first cave management plan at Wind Cave National Park.
NPS Photo by Jim Pisarowicz
"I want to be a professional cave explorer"
When Jim Nepstad first visited Wind Cave as a boy of 10 he was so excited by what he saw that he said that he wanted to become a professional cave explorer. Nepstad began working as an interpreter at the park in 1983 and over the winter of 1985 he sorted out all the survey data for the cave and created the first computerized cave map of Wind Cave.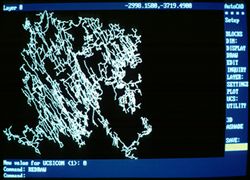 Geographic Information System
This project eventually grew into the park's first Geographic Information System (GIS) and Nepstad became the first fulltime cave management specialist at Wind Cave National Park.