Cave Exploration - A Blowing Hole
NPS Photo
The Discovery
American Indian tribes have lived for centuries in the Black Hills. These early inhabitants were the first discoverers of Wind Cave.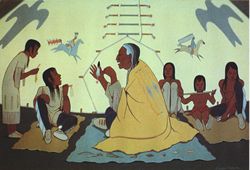 Talking History
Lakota oral tradition refers to a "hole that breathes cool air" near Pte Tatiopa, the "Doorway of the Buffaloes" or Buffalo Gap. It is believed that the Natural Entrance to Wind Cave is that breathing hole.
NPS Photo Archive
It'll Blow The Hat Right Off Your Head
In 1881, while riding their horses up a draw, Tom and Jesse Bingham heard the sound of blowing wind on a calm day. Following the sound, they came upon a hole in the ground. When Jesse looked into the hole the wind blew his hat right off. The story of a hole that will blow the hat off quickly spread and other people ventured out to the area to see this blowing hole.