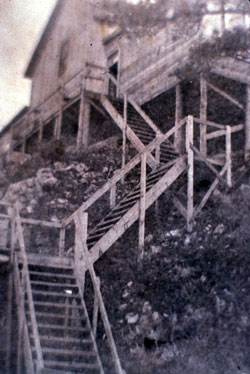 NPS Photo Archive
Partners and Lawsuits
The McDonalds, assuming the cave was theirs, took on a partner. On September 9, 1892 the Hot Springs Star reported: The enterprising proprietors of the Parrott House, Messrs. Stabler and Sons, are constructing a hotel at Wind Cave.
However, the Mining Company was not willing to let the cave go. The McDonalds, supported by the Stablers, were often in court defending their claim.
The Hot Springs Star reported: Both parties (the McDonalds and the Mining Co.) appealed the case in December of 1896 to the secretary of the interior and a decision is being awaited. Both parties are after the cave without any particular reference to the ground which is valueless for any practical purpose.
.
| | |
| --- | --- |
| Click on the links below to learn more about the park's history. | For more information about the history of the park, visit these pages. |