Birth of a National Park - Publicizing the Cave
NPS Photo Archive
The Petrified Man
The Stablers presented many publicity "stunts" to advertise the cave. They "found" a petrified man in Wind Cave Canyon and placed him in the cave. For a small sum you could look at "the petrified man".
NPS Photo Archive
A Mind Reader!
A mind reader, Professor Paul Alexander Johnstone, came to the Black Hills in 1893 to find a hat pin that had been secreted in the cave. John Moore, a writer for the Deadwood Times and the Omaha World Herald was with them. After 3 days of searching and 3 days of publicity, the pin was located in the Standing Rock Chamber on today's Candlelight Tour.
Exploration continued and on March 20,1892, George A. Stabler, Alvin McDonald, Elmer McDonald, J.D. McDonald discovered the Fairgrounds. It was the largest room in Wind Cave until the Club Room was found in 1964.
NPS Photo Archive
Going to the Fair
In 1893, the McDonalds and Stablers took cave specimens to the Colombian Exposition in Chicago to promote the cave nationally. Unfortunately, on the trip Alvin caught typhoid fever. He died December 15, 1893. The Hot Springs Star reported that Alvin was now "the chief guide to the pearly gates of the Eternal City."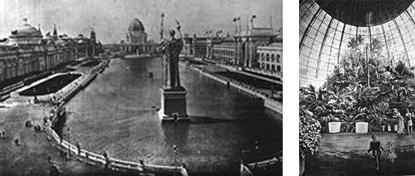 NPS Photo Archive
| | |
| --- | --- |
| Click on the links below to learn more about the park's history. | For more information about the history of the park, visit these pages. |