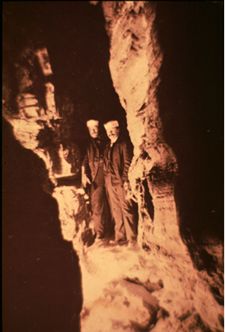 Also the line should have been laid upon the surface, and the surface line indicated upon the profile, showing the difference in elevation vertically.
The names by which some of the most important rooms are known are marked upon the plat.
The three routes are known as the "Pearly Gates," "Fair-Grounds," and "Garden of Eden"
There are numerous crevices leading away from the different routes and one is crossed by a bridge. It is called "Castle Garden" crevice, through which the chamber called the "Blue Grotto", is reached. This crevice is not opened so a survey could be made through it. From Stations 82 and 84, I crawled through the crevice into beautifully crystallized rooms, but a line could not be produced without being opened in places.
At stations 4, 5, 6, 60, 82, 84 and 93 on the main and "Pearlv Gates" route, there are large strong crevices, which are known to lead to large rooms; 100 ft. northerly from Sta.67 and l00 ft. easterly from Sta. 62 are large crevices leading into large rooms, which are so pinched in Places and partly blocked by large boulders, that it is impossible to survey through.
At stations 83a, 84a, 89a, 93a and on the "Fair Grounds" route there are crevices which have been but little explored. Wherever they have been they have led into other crevices and chambers.
I was told by one of my assistants that his brother (now dead) crawled into a crevice at Sta.4. and wandered around in a southwesterly direction for 60 hours before finding his way back. Large rooms were reported found, but with one exception there has been no attempt made to return there by the same person, who started with a ball of wrapping twine, one end of which was left at the end of the crevice returning to Sta.4, but after the twine had parted a number of times the further exploration in that direction was abandoned.
From Station "J" on the "Garden of Eden" route the line can be produced into the Garden of Eden, after the stairs ascending the crevice at an elevation of 50 ft. and at an angle of 45 have been repaired or built. An expenditure of $2500 in exploring opening and surveying will more than double the underground distances.
The possibilities of wonderful discoveries by exploration are beyond the most visionary ideas of man.
Respectfully submitted,
Myron Willsie
C.E. and U.S. Dep. Min. Sur.