Swaying prairie grasses, forested hillsides, and an array of wildlife such as bison, elk, and prairie dogs are all features of the sunlit world of Wind Cave National Park – one of our country's oldest national parks and one of our few remaining almost intact prairies. Secreted beneath it is one of the world's longest and most complex caves, Wind Cave. These dark, mysterious places are packed with wonders to discover! They are home to many interesting formations and unusual life forms. Plan your field trip,explore a curriculum about the incredible force of water, or discover lesson plans or information about wildlife, prairies, or the cave as you delve into the park's website.
Wind Cave National Park is open all year and teachers can bring students for regularly scheduled cave tours any time. Teachers may request a program that supports a particular classroom objective for their special visit to the cave. Suggested pre-visit lesson plans for learning about caves are available on the park's website. Reservations may be made by calling the park at 605-745-4600.
Named for barometric winds at its entrance, Wind Cave is complex labyrinth of passages that contains a unique formation called boxwork.   Explore the mysteries underground, how they formed, and how we can protect them. After touring the cave, enjoy the world of the prairie and the interesting creatures living there. 
Read More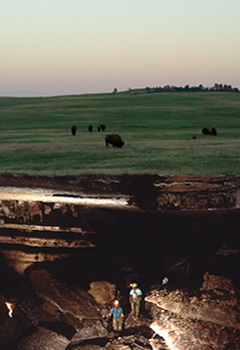 Features
Explore the two worlds of Wind Cave National Park

Explore the two worlds of Wind Cave NP with your students - the sunlit world of the prairie and secreted beneath - one of the world's longest caves.

Read More

Crawling Down Passageways

Right now there could be explorers discovering new places in Wind Cave. Learn more about geology, exploration, cave explorers, and unique formations.

Read More

Explore the Cave and Prairie from Afar

Can't bring your students to Wind Cave? Connect your class from afar by exploring a variety of topics on the park's website.

Read More