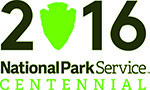 Did you know that salt was once mined in this area? Have you ever wondered about the architecture that you see in the visitor center? Or perhaps your interest lies in the amazing skills of Native American artistry.
Whatever your interest, come Step Into the Past with us and learn about the Tularosa Basin's fascinating history! Take a look beyond the bad men and the territorial conflicts as we explore some of the lesser known aspects of the area's past.
General Information
This program is presented every other month throughout the year. The topics presented vary. See the schedule below for dates and times. Most programs do not require reservations unless otherwise noted.
Cost
The program is free unless otherwise noted.
2015 Program Dates
Territorial New Mexico and the Lincoln County War
Saturday, January 3, 2015 at 1:00 p.m.
Travel back in time with a ranger and a living history actor to a period in history dominated by land disputes, developing settlements, and lawlessness in territorial New Mexico. Discover the unique history of the Land of Enchantment and the events leading up to the Lincoln County War. Learn about the interesting clash of cultures and historic figures, such as New Mexico's most infamous outlaw, Billy the Kid, who may show up to explain events as he remembers. Meet in the visitor center theater. Program is free.
Giants from the Past: Untold Secrets of the White Sands
Saturday, March 7, 2015 at 1:00 p.m.
Long before the famous white gypsum dunes formed, it was cooler and wetter in the Tularosa Basin and the animals were much bigger. Mammoth, ancient camels, dire wolves, American lions, and giant ground sloths roamed the muddy shores of ancient Lake Otero leaving behind footprints. These muddy clues provide a glimpse of the past and help scientists today learn about the mighty mammals that once ruled the basin. You are invited to learn about these Ice Age giants and see the traces they left behind. Meet in the visitor center theater. Program is free.
More than a Sandbox: The Agencies and Missions that Manage the World's Largest Gypsum Dunefield
Saturday, May 2, 2015 at 1:00 p.m.
Join us for the opening of a photo exhibition portraying the historic relationship between White Sand National Monument and White Sands Missile Range. Although similar in name, the two are separate entities established for different missions. This exhibit highlights how our histories are intertwined, the balancing act between public and military use, and the cooperation necessary between the two entities in order for both to successfully reach their individual and collective missions. Meet in the visitor center theater. Program is free.
Mexican Arts Show and Sale
Saturday and Sunday, July 11-12, 2015 from 10:00 a.m. to 5:00 p.m.
Enjoy a Mexican Arts Show and Sale co-sponsored by the National Park Service and Western National Parks Association. Experience the rich Mexican culture, beautifully expressed through extraordinary Mata Ortiz pottery and vibrant Zapotec rugs from Northern Chihuahua and Oaxaca, Mexico. Enjoy live demonstrations throughout each day. You will find a wide array of items, from $20 pots up to museum-quality pieces. All artwork is hand-made in Mexico. Program is free and will be held in the visitor center patio.
American Indian Artists: Craft Show and Demonstration
Saturday, September 5, 2015 from 1:00 p.m. to 5:00 p.m.
Join American Indian artists from New Mexico in the visitor center patio for craft demonstrations and sales. Guest artists will teach how they create their handcrafts and explain the history and meaning of their artwork. Watch as several artists create exceptional one-of-a-kind handcrafts that will also be available for purchase during the event. This presentation is co-sponsored by the National Park Service and White Sands Trading. Program is free and will be held in the visitor center patio.
Journey Through Time at Lake Lucero
Saturday, November 7, 2015 at 9:30 a.m.
Accompany rangers and living history actors from the New Mexico Farm & Ranch Heritage Museum on a journey through the 10,000 years of human habitation in the Tularosa Basin. As you hike Lake Lucero, colorful characters such as celebrated author Eugene Manlove Rhodes and renowned photographer Ansel Adams will share the rich history of the basin. Program fee: $8 per adult (16 years and older), $4 for children. Reservations are required and will be accepted starting on October 7. All tour resevations must be made through the website. This four-hour program will take place on the Lake Lucero trail. The trail is uneven, rocky, and has a grade of two to three percent. ** The Lake Lucero Tour may be canceled due to inclement weather or missile testing. Call the monument at 575-479-6124 ext. 236 to confirm the program is still scheduled.