Skins and Skulls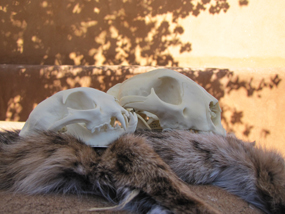 Did you know that 44 different species of mammals live at White Sands?
Join rangers at 3 pm every Saturday and Sunday in the visitor center courtyard for a 20-minute talk about these amazing animals. Rangers will have pelts, skulls, and other props to provide you an up-close look and feel of the elusive wildlife of White Sands.
There is no charge for the program.
Did You Know?

Only the top few inches of the gypsum dunes are made of loose sand. Rainwater falling on the dunes dissolves some of the gypsum and cements the sand grains together, creating a crude form of plaster of Paris. This makes the white sand dunes easy to walk on.