Closures and Missile Tests

Upcoming Missile Tests: From time to time the missile range that surrounds us performs missile testing that may require the closure of the park or Highway 70. Please follow the link below for up to date information on closures More »
2014 WHITE SANDS BALLOON INVITATIONAL

The White Sands Balloon Committee and the Alamogordo Chamber of Commerce will be hosting both days of the Balloon Festival on Sept 20-21 at the Ed Brabson Balloon Park on Lavelle Rd in Alamogordo. Call Pat at (575) 430-9226 from 8-5 pm MDT.
Summer Monument Hours

The monument currently opens at 7 a.m. and closes roughly 1 hour after sunset. More »
Road Safety Corridor

The first four miles of Dunes Drive is a road safety corridor. Slowing or stopping in the corridor is prohibited. Dune Life Nature and Playa trails are also temporarily closed. The staff of White Sands National Monument apologizes for the inconvenience.
Skins and Skulls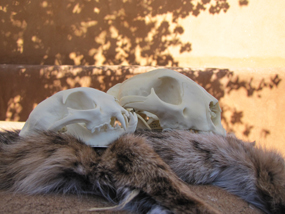 Did you know that 44 different species of mammals live at White Sands?
Join rangers at 3 pm every Saturday and Sunday in the visitor center courtyard for a 20-minute talk about these amazing animals. Rangers will have pelts, skulls, and other props to provide you an up-close look and feel of the elusive wildlife of White Sands.
There is no charge for the program.
Did You Know?

While the wind piles the sand grains into dunes, the dunes move forward under the force of gravity. As the leading edge of the dune ("slipface") gets steeper, gravity pulls an avalanche of sand down the slipface, moving the dune forward.