Closures and Missile Tests

Upcoming Missile Tests: From time to time the missile range that surrounds us performs missile testing that may require the closure of the park or Highway 70. Please follow the link below for up to date information on closures More »
Summer Monument Hours

The monument currently opens at 7 a.m. and closes roughly 1 hour after sunset. More »
Road Safety Corridor

The first four miles of Dunes Drive is a road safety corridor. Slowing or stopping in the corridor is prohibited. Dune Life Nature and Playa trails are also temporarily closed. The staff of White Sands National Monument apologizes for the inconvenience.
Skins and Skulls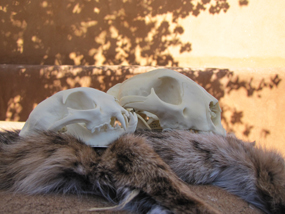 Did you know that 44 different species of mammals live at White Sands?
Join rangers at 3 pm every Saturday and Sunday in the visitor center courtyard for a 20-minute talk about these amazing animals. Rangers will have pelts, skulls, and other props to provide you an up-close look and feel of the elusive wildlife of White Sands.
There is no charge for the program.
Did You Know?

Because there is virtually no fresh water within the White sands dunefield, animals that live in the dunes must get almost all their water solely from the food they eat. Desert animals have evolved many ways of conserving moisture. The kangaroo rat eats only dry seeds and never drinks water.