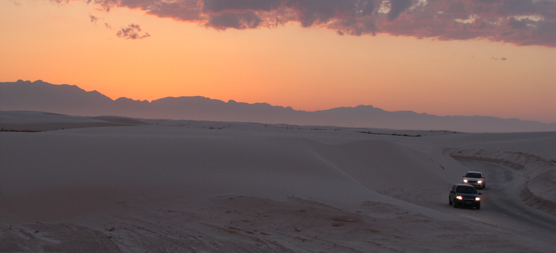 Your first stop should be the White Sands visitor center, which includes a museum, orientation video, information desk, book store, gift shop and restrooms. Allow approximately 30 minutes for visitor center activities.
The Dunes Drive, an eight-mile scenic drive, leads from the Visitor Center into the heart of the dunes. This hard-surface roadway is suitable for cars, trailers and buses.
Allow 40 minutes driving time for the 16-mile roundtrip, plus additional time for walking, photography or stopping at pullouts.
Picnic areas and pit toilets are located near the end of the Dunes Drive. There is no water available in the dunefield. Water containers can be filled at the visitor center.
Wayside exhibits at pullouts along the Dunes Drive provide information about the natural history of the park. Numerous parking areas along the drive allow visitors to stop and walk in the white sands.