Closures and Missile Tests

Upcoming Missile Tests: From time to time the missile range that surrounds us performs missile testing that may require the closure of the park or Highway 70. Please follow the link below for up to date information on closures More »
2014 WHITE SANDS BALLOON INVITATIONAL

The White Sands Balloon Committee and the Alamogordo Chamber of Commerce will be hosting both days of the Balloon Festival on Sept 20-21 at the Ed Brabson Balloon Park on Lavelle Rd in Alamogordo. Call Pat at (575) 430-9226 from 8-5 pm MDT.
Summer Monument Hours

The monument currently opens at 7 a.m. and closes roughly 1 hour after sunset. More »
Road Safety Corridor

The first four miles of Dunes Drive is a road safety corridor. Slowing or stopping in the corridor is prohibited. Dune Life Nature and Playa trails are also temporarily closed. The staff of White Sands National Monument apologizes for the inconvenience.
Picnicking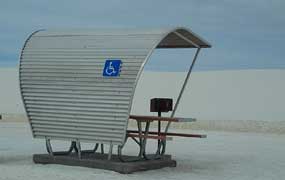 There are two shaded picnic tables adjacent to the Visitor Center at the park entrance.
There are three picnic areas in the heart of the sands near the end of the Dunes Drive, with a total of 45 tables. Each table is shaded and has an elevated grill. Please do not leave used charcoal in the grills or throw charcoal into trash containers. Take all used charcoal home with you.
One group picnic area may be reserved in advance for organized groups. Click here for information on the Group Use Area.
Did You Know?

Because there is virtually no fresh water within the White sands dunefield, animals that live in the dunes must get almost all their water solely from the food they eat. Desert animals have evolved many ways of conserving moisture. The kangaroo rat eats only dry seeds and never drinks water.