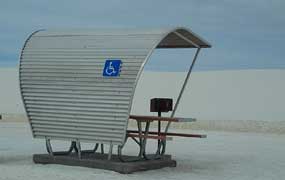 There are two shaded picnic tables adjacent to the Visitor Center at the park entrance.
There are three picnic areas in the heart of the sands near the end of the Dunes Drive, with a total of 45 tables. Each table is shaded and has an elevated grill. Please do not leave used charcoal in the grills or throw charcoal into trash containers. Take all used charcoal home with you.
One group picnic area may be reserved in advance for organized groups. Click here for information on the Group Use Area.