Closures and Missile Tests

Upcoming Missile Tests: From time to time the missile range that surrounds us performs missile testing that may require the closure of the park or Highway 70. Please follow the link below for up to date information on closures More »
Pets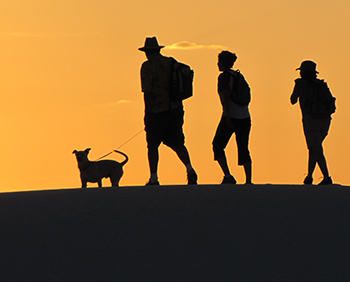 R. Wiles
Pets love White Sands...
And why not? To them, it's full of new scents, sights, and excitement! And people love bringing their furry companions with them to the park, too.
Visitors are more than welcome to bring their pets out to White Sands National Monument. There are just a few rules that we ask visitors to observe while visiting.
For the safety of your pet and other visitors, pets must be on a leash or physically restrained at all times.
Pets are not allowed inside buildings. The only exceptions to this rule are service animals.
Please clean up after your pet.


Did You Know?

The wind moves small sand grains by bouncing them along the surface in a process called "saltation." Saltating sand grains create a beautiful pattern of ripples on the dune surface. Larger sand grains are struck by saltating grains and slowly roll forward, a process known as "surface creep."