Closures and Missile Tests

Upcoming Missile Tests: From time to time the missile range that surrounds us performs missile testing that may require the closure of the park or Highway 70. Please follow the link below for up to date information on closures More »
2014 WHITE SANDS BALLOON INVITATIONAL

The White Sands Balloon Committee and the Alamogordo Chamber of Commerce will be hosting both days of the Balloon Festival on Sept 20-21 at the Ed Brabson Balloon Park on Lavelle Rd in Alamogordo. Call Pat at (575) 430-9226 from 8-5 pm MDT.
Summer Monument Hours

The monument currently opens at 7 a.m. and closes roughly 1 hour after sunset. More »
Road Safety Corridor

The first four miles of Dunes Drive is a road safety corridor. Slowing or stopping in the corridor is prohibited. Dune Life Nature and Playa trails are also temporarily closed. The staff of White Sands National Monument apologizes for the inconvenience.
Hike Smart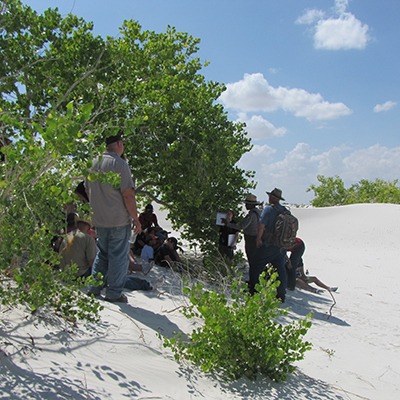 Hike Smart! Learn how to "Hike Smart" with a ranger this summer!
Every Saturday at 5 pm, May 27 through September 2, 2013
Hike Smart is a ranger lead program for both adults and children at White Sands NM this summer. The program is about how to keep yourself as well as the plants and animals whose home you will be traveling through safe.
It is important to know how to explore deserts safely. Hiking is more fun if we are prepared. This program is based on scenarios that will help you learn how to dress, what to bring, basic map and compass use, and outdoor awareness skills. This is an hour long outdoor class.
**Please note that this is not the same as our Junior Ranger program. Children do not earn a badge or patch. For children who would like to earn a badge or patch, the Junior Ranger booklet can be obtained for free at the visitor center desk.
Where: Dune Life Nature Trail - Meet at trailhead
For: Adults and children.
Fee: Program is free; monument entrance fees apply
Bring: Water, hat, sunscreen
Did You Know?

Only a handful of gypsum dunefields exist and the white sands dunefield is by far the world's largest, covering 275 square miles.