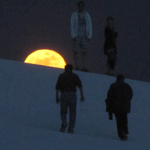 What is the Full Moon Hike?
Have you ever wondered how animals live at night in the dunes? Join a ranger for a full moon hike and see firsthand how the animals survive in the dunes. This program runs May through October every year.
Cost
There will be a program fee of $8 per person for anyone 16 and older and $4 for 15 and under in addition to monument entrance fees. You must pay the fees for the hike at the entrance station and you may pay them up to 24 hours in advance. If you still have a valid monument entrance receipt (no older than 6 days) then you do not need to pay the monument entrance fee again. The ranger will look at your receipt when checking you in for the hike.
2016 Full Moon Hike Schedule
No hikes are scheduled to take place November 2015 through April 2016. Reservations are required. Registration will open two weeks in advance of the hike. Forms received before 8:00 a.m. on the day registration opens will not be processed.
Friday, May 20, 2016 at 7:45 p.m.—
Sunday, June 19, 2016 at 8:00 p.m.—
Tuesday, July 19, 2016 at 8:00 p.m.—
Wednesday, August 17, 2016 at 7:30 p.m.—
Wednesday, September 14, 2016 at 7:00 p.m.—
Friday, October 14, 2016 at 6:15 p.m.—
How to prepare: Closed-toe shoes are required. Bring water and a light jacket in case the evening is cool. While photography is encouraged, no tripods or flash photography are allowed. Neither are flashlights or headlamps. Children are allowed but must be closely supervised. Individuals must be able to walk the full 1.5 miles. For safety reasons, the group must remain together for the duration of the hike.
Please note that this is an educational program. If you would like to photograph the moon, the monument is open later the night after the hike so the opportunity to get a nice moonlit glow on the dunes is better then.
Accessibility: Due to steep trails, this activity is not wheelchair accessible. If you have night blindness or have a difficult time seeing outdoors at night, this hike is not recommended as flashlights and headlamps are not allowed. It is also not recommended for those with mobility issues (knee or leg join problems) as the hike requires visitors to hike up two tall dunes.
Pets: Pets are allowed as long as they are friendly and on a leash at all times.
Weather: The hike may be canceled due to inclement weather or missile testing. Call the monument at 575-479-6124 ext. 236 to confirm the program is still scheduled.
How to Reserve Your Spot
Reservations are required: Reservations will only be accepted during the registration period (two weeks prior to the scheduled hike). Please make your reservations early because only 40 participants are allowed per trip. The hike fills up very fast, often within a few hours after the form is posted. Trip details will be given out to registered participants.
When a form will be available: To help mitigate any server issues or other circumstances, we usually have the form uploaded onto the website the night before registration opens. There are occasions when this does not happen due to various reasons (staffing, server problems, etc). In those instances, we try to have the form available no later than 9:00 am on the morning that registration opens. Forms will not be accepted before 8:00 am Mountain Time (MT) on the day registration opens (see note below). Directions for submitting the form are below.
Please note: Forms are processed in the order they are received according to the date/time stamp on them (faxes included). Any forms received before 8:00 am MT on the day registration opens will not be processed.
Large Groups
BOY SCOUTS AND OTHER LARGE GROUPS - Because spaces are limited, we cannot allow large groups to register for the public full moon hike, even if you send in multiple forms of 5 participants each.
Directions for Submitting the Form
When you download the form, you will see three buttons in the upper right-hand corner of the form itself. The following will explain what the three buttons do.
1) Email Form:
Desktop Email Clients: Use this button if you have and use an email client such as Outlook, Outlook Express, Eudora Mail, or other desktop email clients. This button will open your email client and attach the form to an email for you. All you need to do is fill in the "To" and "Subject" fields. You must save the form (instructions below) before attempting to attach it to an email in order to preserve the information you entered into the fields. Otherwise, the form will be sent to us blank. Make sure to click on "Send Copy" if it asks you how you would like to send it. If you choose "Send Link", we will not receive it.
Web-based Email Clients: If you use a web-based client, such as Yahoo, Hotmail, or Gmail, you will also need to save the completed PDF file to your computer using the steps below. Then, sign into your email account in your browser. Compose a new email, just as you would normally, and attach the PDF form to your email using the procedures for your particular email provider.
2) Save Form:
This button will save the PDF to your computer. After you have filled it out, click the Save Form button. This will open the "Save A Copy" dialog window. Enter a file name and save it to a location that you can easily access it from.
3) Print Form:
This button will send the PDF to your default printer. If you do not wish to email it, then this way you can mail or fax the form back to us.