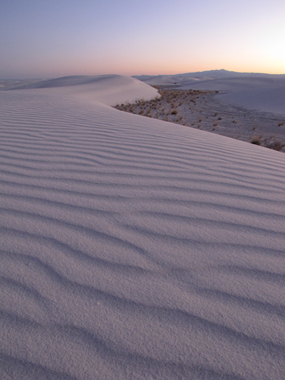 What is the Sunrise Photography program?
Come join a ranger to see the first rays of the morning sun push over the Sacramento Mountains. This early morning porogram is focused on amateur or novice photographers. Rangers will share tips on taking great photos in the early morning light while allowing participants to capture their memories on camera.
The program is presented only twice each year. Reservations are required. To register for the hike, simply download the registration form and return it to us via email at whsa_interpretation@nps.gov or by fax at (575) 479-1116.
The registration period will open two weeks before each scheduled hike and the registration form will be available for download during that time until the hike is full. Once capacity has been met, the form will no longer be available.
Participation is limited to 20 individuals. Group size per reservation is limited to no more than 5 people. Children 10 years of age and older are welcome to participate.
Scheduled Dates for 2016
Saturday, March 19, 2016 at 6:00 a.m.—
Saturday, October 8, 2016 at 6:00 a.m.—
Fees
Program fees of $8 per adult and $4 for anyone 15 and under are required for this program. Once the program is over, monument entrance fees apply if you choose to enter the monument after it opens at 7 a.m.
How to Prepare
Preparation: Participants must stay with the group and be physically capable of walking two miles in the dunes. They must also be prepared for cool morning temperatures. A winter hat, jacket, and gloves that still allow you to operate a camera are strongly recommended. Closed-toe shoes are required. Bring a flashlight. Participants must supply their own camera and other equipment (tripod, batteries, etc.). No equipment will be provided by the monument. Bulky equipment is not recommended for this program.
When You Arrive: The ranger will meet you at the gate 20 minutes before the program begins to let you into the park. They will have a list with the names of registered participants. If you are not on the list, you will not be allowed in the park until the gates officially open. The ranger will close and lock the gate 5 minutes before the program to caravan visitors to the program area. Photographers must stay with the ranger for the entire duration of the program.
Parking: The program will take place at the Cottonwood Grove, located 1.5 miles down a one-lane dirt road that is not accessible to visitors under any other circumstances. Two-wheel-drive vehicles will have no problem navigating the road but large vehicles such as buses, RVs and trailers are not permitted. Carpooling is encouraged to reduce the number of vehicles.
PLEASE NOTE: Those who wish to take sunrise photography but do not want to attend the program must pursue an early open permit.