Closures and Missile Tests

Upcoming Missile Tests: From time to time the missile range that surrounds us performs missile testing that may require the closure of the park or Highway 70. Please follow the link below for up to date information on closures More »
New Monument Hours

The monument currently opens at 8 a.m. and closes roughly 1 hour after sunset. More »
Sunrise Photography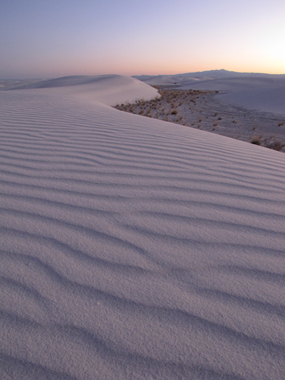 Come join a ranger to see the first rays of the morning sun push over the Sacramento Mountains. This early morning porogram is focused on amateur or novice photographers. Rangers will share tips on taking great photos in the early morning light while allowing participants to capture their memories on camera.
The program is scheduled only twice a year. Reservations are required. To register for the hike, simply download the registration form and return it to us via email at whsa_interpretation@nps.gov or by fax at (575) 479-1116.
The registration period will open two weeks before each scheduled hike and the registration form will be available for download during that time until the hike is full. Once capacity has been met, the form will no longer be available.
Participation is limited to 20 individuals. Group size per reservation is limited to no more than 5 people. Children 10 years of age and older are welcome to participate. Program fees of $5 per adult and $2.50 for anyone 15 and under are required for this program.
Please bear in mind that these events can be very popular and often fill up within just a few hours after registration opens. Reservations are taken in the order in which they are received. To improve your chances of obtaining a place on the hike, submit your form as early as possible. The form will usually be uploaded to the site by 8 am on the day registration opens.
Scheduled Programs for 2014:
Sunday, March 23, 2014 at 6:00 a.m.— Click here to download the form.
Sunday, October 26, 2014 at 6:15 a.m.—Registration will open at 12:01 a.m. MST on October 12, 2014. Please note: a mistake on our schedule of events states that Oct. 26 is a Saturday, but it is actually a Sunday.

For the October program, please read the following:

The monument gate will be opened at 6:00 a.m. by the ranger leading the hike. Only registered visitors will be allowed into the monument. Once all participants are through, the gate will be locked again by 6:25 a.m.

Participants must stay with the group and be physically capable of walking two miles in the dunes. They must also be prepared for cool morning temperatures. A winter hat, jacket, and gloves that still allow you to operate a camera are strongly recommended. Closed-toe shoes are required.

The program will be approximately one hour long and participants must stay together for the entire duration. The program is free but visitors wiill be required to pay the monument entrance fee of $3 if they choose to enter the monument after the program.

Participants must supply their own camera and other equipment (tripod, batteries, etc.). No equipment will be provided by the monument. Bulky equipment is not recommended for this program.

The program will take place at the Cottonwood Grove, located 1.5 miles down a one-lane dirt road that is not accessible to visitors under any other circumstances. Two-wheel-drive vehicles will have no problem navigating the road but large vehicles such as buses, RVs and trailers are not permitted. Carpooling is encouraged to reduce the number of vehicles.

Photographers must stay with the ranger for the entire duration of the program. Those who wish to take sunrise photography but do not want to attend the program must pursue an early open permit.



Did You Know?

Most desert animals are nocturnal, coming out to feed only at night when temperatures are cooler. Every animal in the white sands makes tracks on the dunes as it moves, leaving clues to its nocturnal activities.