Crafty Kids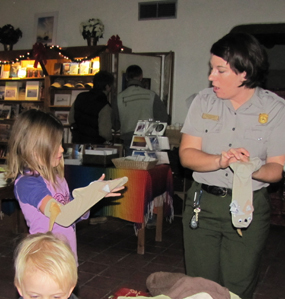 Get your hands involved in learning!
Join rangers every Sunday at 2 pm in the visitor center courtyard for a free one-hour craft and interpretive program. Rangers will share surprising facts about the creepy crawlers, amazing adapters, and out-of-this-world geology of White Sands whlie guiding kids through a take-home craft project.
Targeted age range is 6-10 years old. Parents are welcome to stay and participate in the program.
Did You Know?

The wind moves small sand grains by bouncing them along the surface in a process called "saltation." Saltating sand grains create a beautiful pattern of ripples on the dune surface. Larger sand grains are struck by saltating grains and slowly roll forward, a process known as "surface creep."