Closures and Missile Tests

Upcoming Missile Tests: From time to time the missile range that surrounds us performs missile testing that may require the closure of the park or Highway 70. Please follow the link below for up to date information on closures More »
New Monument Hours

White Sands National Monument will open at 8 a.m. and close approximately one hour after sunset from September 3 through December 31, 2013. Beginning on January 1, 2014, the monument will open at 9 a.m.
Road Work in the Monument

From Oct. 1 until further notice, a paving project will affect Dunes Drive and the visitor center and gift shop parking lots. Please be alert for changes in traffic patterns and potential traffic delays along Dunes Drive. We appreciate your flexibility.
Closed on Christmas Day

The monument will be closed on Christmas Day, December 25, 2013.
Crafty Kids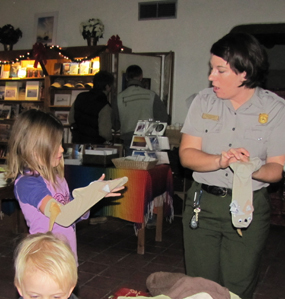 Get your hands involved in learning!
Join rangers in the visitor center courtyard for a free one-hour craft and interpretive program. Rangers will share surprising facts about the creepy crawlers, amazing adapters, and out-of-this-world geology of White Sands whlie guiding kids through a take-home craft project.
Targeted age range is 6-10 years old. Parents are welcome to stay and participate in the program.
2013 Dates:
November 1 through December 31, 2013 - Every Sunday at 2pm.
2014 Dates:
March 10 through March 21, 2014 - Everyday at 2pm
November 26 through November 30, 2014 - Everyday at 2pm
December 21, 2014 through January 3, 2015 - Everyday at 2pm
Did You Know?

Most desert animals are nocturnal, coming out to feed only at night when temperatures are cooler. Every animal in the white sands makes tracks on the dunes as it moves, leaving clues to its nocturnal activities.